Industry chiefs demand answers as ministerial advice appears to contradict PM's lockdown ruling
Michael Gove confirmed that construction sites can remain open this morning as confusion continues over last night's apparently contradictory advice.
The housebuilding industry was plunged into confusion when Robert Jenrick responded to the prime minister's decision to put the country into "lockdown" by saying that it was fine for construction sites to remain open.
Boris Johnson ordered people to stay at home and has asked the police to enforce the new measures which include a ban on gatherings of more than two people.
In an address to the nation on Monday evening, he warned people will only be allowed outside to buy food or medication, exercise alone once a day, or to travel to work if absolutely necessary.
But less than 90 minutes later, Jenrick, the communities and housing secretary, tweeted that the advice for the construction industry was: "If you are working on site, you can continue to do so."
And this morning Gove said: "It is the case, as Robert Jenrick pointed out, that construction on sites should continue. People should obviously exercise sensitivity and common sense and follow social distancing measures. But construction in the open air on those types of sites can continue."
He added: "I think it's important that, when we have construction work that is going in a way that can be done safely, in the open air and on new sites, that does continue.
"It's important that we make sure that construction and manufacturing can continue and that seems to me to be the safest way of ensuring that we can maintain appropriate social distancing rules in a way which ensures that people who cannot work from home continue to do so."
In a series of tweets late last night Graham Watts, the chief executive of the Construction Industry Council, said Construction Leadership Council (CLC) chair Andy Mitchell had been in touch with government following Johnson's announcement about "secur[ing] much needed clarity about the position of construction sites, which may take until [this] morning".
He added: "The CLC chair has advised the Cabinet Office that the construction industry will come to work tomorrow [Tuesday], to prepare to shut down works safely, whilst awaiting further information. We hope that by tomorrow morning there will be a much clearer picture of exactly what can and cannot continue."
The chair of the CLC, Andy Mitchell, has been in dialogue with the Cabinet Office since the PM's announcement at 8-30pm this evening. Officials are working to secure much needed clarity about the position of construction sites, which may take until the morning.../contd 2

— Graham Watts (@CICCEO) March 23, 2020
...It is clear that this does not mean that everything must stop - it certainly doesn't apply to those working in the health services and utilities operations and maintenance for example. In the meantime, the CLC chair has advised the Cabinet Office that the construction..contd/3

— Graham Watts (@CICCEO) March 23, 2020
...industry will come to work tomorrow, to prepare to shut down works safely, whilst awaiting further information. His interpretation is that this means as a minimum, to do whatever is necessary to leave works in a state that can be safely left for some while...contd/4

— Graham Watts (@CICCEO) March 23, 2020
...and to secure plant, equipment and materials. He has also made clear that this should include the maintaining of site security, the stability of partially constructed structures that could become unstable and potentially dangerous, and the maintenance of systems...contd/5

— Graham Watts (@CICCEO) March 23, 2020
...The main message is that the Prime Minister's announcement does not mean "do not go to work regardless of the consequences" as this would be irrational and wrong, and unintended. END

— Graham Watts (@CICCEO) March 23, 2020
One major contractor admitted: "[The confusion] is making a very difficult decision for construction chief executives even harder."
And another added: "The government is bottling it by defining one of the restrictions of only travelling to work if it's 'absolutely necessary' and you can't work from home.
"A lot of this is that private developers don't want to shut the sites because they then take responsibility for the decision and then have to give compensation, added time if not also added money, to the main contractor.
"The developer wants the main contractor to admit defeat first, through the inability to resource the job and or critical programme slippage. Then it is the main contractor's default that comes into play and a claim against them is pursued by the developer.
"Apply the same logic to the main and specialist subbies' contractual relationship, then you've got two levels of 'who blinks first'."
Another added: "The position is a farcical one. Any contractor or subcontractor who survives coronavirus may find themselves being taken down by litigation next year."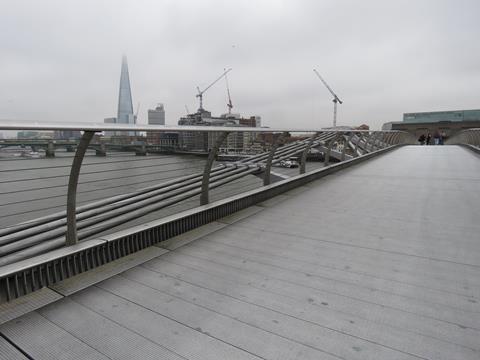 Building understands that some firms are drawing up plans to pull workers off jobs, adding the issue of whether sites stay open is now a matter of conscience.
A director at one senior firm with a string of schemes in the UK said: "We have to do what is right by our staff. This is a moral issue. We all have to be able to look at ourselves in the mirror when this is over and be satisfied with our actions."
Government guidelines on social distancing say people should be at least 2m apart but the director added: "It is becoming increasingly hard to be able to maintain the government guidance on projects with 200-300 people on site."
A note produced by the CLC on site operating procedures admitted: "There will be situations where it is not possible or safe for workers to distance themselves from each other by 2m."
The 2m rule has been branded unenforceable for construction even before workers get to site – given so many use public transport, especially in London, to get to jobs. One executive said: "The workers still need to get to work on tubes and the 2m rule is impossible on public transport. Likewise, I'm not sure how you maintain the 2m rule on a site."
Simon Tolson, a senior partner at law firm Fenwick Elliott, said Johnson's message was that "essential work does not cover working on a construction site of non-critical purpose".
The number of coronavirus cases in the UK yesterday jumped by 17% to 6,650 with the number of deaths up 19% to 335.