Basic need capital funding allocations announced as Gove launches £982m targeted need programme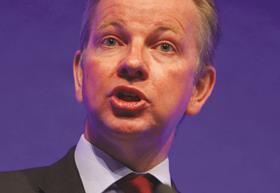 Any new schools built through the additional £982m in schools capital funding announced in the Autumn Statement will have to open as free schools or academies, education secretary Michael Gove has confirmed.
Announcing the allocation of capital funding for basic need of £1.6bn covering the two years 2013-14 and 2014-15, the education secretary said the funding would be targeted at areas that needed it most, with the full allocations set out by region and local authority area (see chart attached).
But he said the additional £982m in funding announced by the chancellor in the Autumn Statement would now be allocated through a Targeted Basic Need Programme "to increase the number of high quality school places available in areas with the most acute levels of need".
He said the programme would deliver new academies and Free Schools, as well as enabling investment to expand existing good and outstanding schools.
He added: "All new schools will open as academies or Free Schools and successful local authorities will be required to run a competitive process in order to select the best provider.
"This will enable greater parental choice where it is most needed, thereby driving up standards across the local area."