CITB-ConstructionSkills among sponsors of 15 proposed private sector-run schools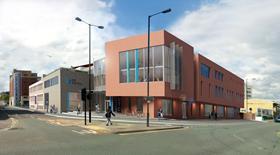 The government has given the green light to 15 new University Technical Colleges (UTCs), including a construction college for young people in the West Midlands.
Government approval will lead to a further pipeline of work for contractors, with all 15 UTCs likely to be procured through the academies framework.
The West Midlands UTC is being supported by CITB-ConstructionSkills and a range of firms, including Willmott Dixon, Balfour Beatty, Morgan Sindall and Lovell.
The private sector-run schools will provide a range of vocational and academic qualifications to 14- to 19-year-olds.
The government has now approved 34 UTCs, including colleges supported by the Shard, Mace, Lend Lease, Taylor Wimpey, Enterprise and Wates.
Last week Wates was appointed contractor on one of the first UTCs to gain approval, an £8.5m engineering and digital specialism UTC in Sheffield (pictured).
Some of the organisations supporting UTCs – including CITB-ConstructionSkills and Wates – voiced concerns about the viability of the UTC programme after the government downgraded over 3,000 vocational qualifications in January.
Only one of the latest raft of 15 UTCs specialises in construction, although 11 others offer various courses in engineering.
Other private sponsors of the newly-approved UTCs include Jaguar Land Rover and Eurostar.
Nigel Donohue, head of business development services at CITB-ConstructionSkills, said: "The UTC will broaden the education and career opportunities for 14- to 19-year-olds and provide a solid foundation for them to build a career in construction.
"Importantly the UTC will offer the construction industry the opportunity to support learners through a curriculum which meets their current and future needs and ensures the best opportunity for progression into employment through the apprenticeship or graduate route and helps deliver a high quality workforce delivering some of our iconic national and international projects."
Newly approved UTCs:
Birkenhead UTC (Merseyside) – Engineering
Bluewater UTC (Dartford/Thameside) – Engineering, Integrated Computer Science
Cambridge UTC – Bio-medical Science & Technology, Environmental Science & Technology
East London UTC (Thames Gateway) – Mechanical (manufacturing) engineering, Product Design and Development
Energy Coast UTC (Cumbria) – Energy
The Elstree UTC (Hertfordshire) – Electronic Engineering and Digital Technologies, Entertainment Technologies and Crafts
Harlow UTC – Environmental Engineering, Medical Technology
Heathrow Aviation Engineering UTC (Hillingdon/Northolt) – Aviation Engineering
Lincoln UTC – Core Science, Engineering
Liverpool Low Carbon and SuperPort UTC – Engineering, Logistics
MediaCityUK UTC (Salford) – Creative and Digital Industries, Entrepreneurship
Norfolk UTC (Norwich) – Advanced Engineering, Energy Skills
Swindon UTC – Engineering with Business, Enterprise & Entrepreneurship
WMG Academy for Young Engineers (at the University of Warwick – Engineering with Digital Technology
West Midlands Construction UTC (Walsall) – Construction & the application of IT in the Built Environment