Until January of this year, University Technical Colleges were fast gaining favour as a way of attracting new talent into our industry. Then, out of the blue, education secretary Michael Gove downgraded vocational qualifications, putting the feasibility of the programme in question. Building asks whether the government is making a dunce of construction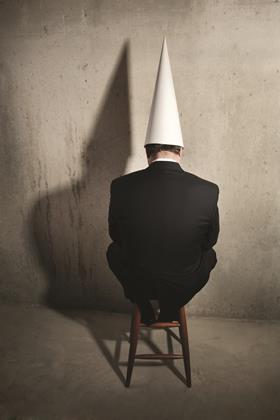 Nine of the UK's most high-profile construction firms are going back to school. The Shard, Balfour Beatty and Mace are among the big names investing in an initiative that could revolutionise construction training - University Technical Colleges.
UTCs are schools set up by private sector firms which offer a range of academic and vocational courses for 14-19 year olds. It's an initiative construction firms, keen to attract new talent to an ageing workforce, have been flocking to, with over a third of the latest raft of 14 UTCs set to open by 2014 to be partly or wholly run by construction firms.
But in January the education secretary Michael Gove made an announcement that threatened to stop the programme in its tracks.
The value of over 3,000 vocational qualifications - including several construction and engineering qualifications - were downgraded in school league tables. Among the casualties was the engineering diploma - offered by one of only two currently operational UTCs, run by construction plant giant JCB - which was downgraded from being worth five GCSEs to just one. According to the Baker Dearing Trust, the charitable foundation responsible for setting up and approving UTCs, the announcement sparked "complete confusion" among the firms and investors lined up behind the colleges.
At stake is the future shape of vocational and construction training and a build programme expected to be worth at least £150m a year, according to the Baker Dearing Trust, for cash-strapped firms. So has Gove knocked the UTC programme off course? And why are construction firms describing UTCs as a golden opportunity not to be missed?
Gove sparks fears
Gove's announcement to downgrade thousands of vocational qualifications attracted national controversy. While many industry leaders readily admitted some courses had long been overvalued - such as nail technology services (two GCSEs), fish husbandry (two GCSEs) and horse care (four GCSEs) - the likes of JCB argued its engineering diploma had unfairly got caught up in the mix.
Former education secretary David Blunkett claimed Gove was guilty of a "wholesale trashing" of the reputation of vocational qualifications. Peter Mitchell, chief executive of the Baker Dearing Trust, agrees: "What they appear to have done is thrown the baby out with the bathwater."
You'll have parents saying 'these qualifications have been downgraded - what's the value in UTCs now?'

Chris Simpson, Wates
Mitchell says construction firms - which were considering offering students adapted versions of existing BTEC or diploma qualifications, which have now all been downgraded - were particularly spooked by Gove's announcement. Construction firms are now worried the downgrade will dampen demand for UTC places among potential students, scare away commercial partners and undermine the feasibility of the new colleges.
Chris Simpson, education liaison officer at Wates, who is helping set up a construction and engineering UTC in Greenwich with Transport for London, says the government is sending out the wrong signals to prospective students and investors. "You'll have parents sitting at home saying 'these qualifications have been downgraded - what's the value in [UTCs] now?'
"It's a big step for a parent to put a 14 year-old in a specialist school. We need the government to back this initiative completely if it's going to work."
Simpson says firms such as Wates have been scarred by previous botched attempts by government to reform vocational education. Four years ago Labour introduced diplomas for construction and the built environment - which Wates invested £20,000 in promoting - but now the initiative is all but dead, with "very few" places offering them, Simpson says. "It's difficult to say to your firm 'let's invest in UTCs' if they might not be around in four years," he says.
Mitchell has written to the government requesting it sets up a forum between the Department for Education, the Baker Dearing Trust, qualification awarding bodies and construction firms, specifically to establish a robust and valuable construction qualification that UTCs can offer students. "We should take the good elements [from the downgraded qualifications] and put them in a double GCSE," Mitchell says. "There's complete confusion, people are really bothered about this."
A spokesperson for the Department for Education said it was aware of the Baker Dearing Trust's proposal to set up a forum and was considering it.
The spokesperson added: "The reforms are about driving up the quality of the curriculum and teaching. They will make sure that only the highest quality qualifications are counted in the league tables so employers and the public can be confident in the education system."
The department will publish an impact assessment on the impact of the changes on all schools later this month.
Golden opportunity
Despite concern among investors, Mitchell says there's so far "no evidence at all" of sponsors pulling back from projects. He says this is testament to the "resolve" of the firms involved and demonstrates how important success of the initiative is to the private sector. "They're not doing it out of the kindness of their hearts," Mitchell says. "These firms need to replace the 50 year olds coming to the end of their careers and they can't employ people with the right technical skills."
Shaun Tate, operations director at Mace, who is involved in setting up a UTC specialising in construction and health technologies in Southwark with the Shard, Balfour Beatty and Lend Lease, agrees. "This initiative is responding to what employers have been asking for for a long time. If they don't get support from industry [the Baker Dearing Trust] is going to struggle to realise its goal and that would be a significant shame for the industry."
For Simpson of Wates, the UTC initiative is a golden opportunity to finally shake off the perception that vocational is a "dirty word". He says the Greenwich UTC will be a demanding place, where students are trained in professional construction skills, such as CAD and estimating, rather than lower-skilled trades. "We can't keep churning out bricklayers. We need to show students construction isn't 'you haven't achieved much, maybe it's for you'. The question should be 'are you good enough for construction?'"