Pair working on trio of schemes in Dubai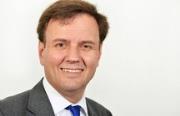 The government is providing more than $600m (£464m) of financial support for three major construction projects in Dubai being built by Kier and Carillion.
International trade secretary, Liam Fox, made the announcement a day after the government launched a new group called Infrastructure Exports: UK (IE:UK) which brings together a number of contractors and consultants to team up and bid for work overseas.
The schemes in the Gulf state are being backed by the UK's export credit agency, UK Export Finance.
The agency has guaranteed Kier, which is building housing and a stadium in Dubai, $455 million while Carillion, which is behind new office blocks, has been given support of $180 million.
Co-chaired by international trade minister Greg Hands (pictured) and Wates chairman James Wates, IE:UK will bring together companies to bid primarily for large infrastructure contracts as a single "Team UK" consortium.
Members include Arup, Atkins, Carillion, Gleeds, Mace, Mott MacDonald and Turner & Townsend.
The new group will meet for the first time this month and then three times a year to choose which projects it will form consortiums to bid for.
Speaking about the new group, Hands said: "For the first time in years the UK has a dedicated department for international trade and it shows our commitment that trade is not only at the heart of all government policy making but is at the centre of the UK's economic future…and infrastructure will be a key part."
He added: "Part of my role is to help UK companies understand the opportunities out there but it's partly about making sure we've got a level playing field."
Hands said regions being targeted included the US, Latin America and the Middle East. He added: "I think the best advantage the UK has in our really strong diplomatic network and trade official network which is very strong in the Middle East."
According to the department for international trade, global annual construction investment is expected to grow by 85% to $15.5tn (£12tn) by 2030.