Backbench attempt to protect leaseholders from costs of fire safety work voted down
The government comfortably defeated attempts by rebel MPs yesterday to force the government to protect leaseholders from any costs related to fire safety work in the blocks in which they live.
The amendment to the Fire Safety Bill, tabled by backbench Conservative MPs Stephen McPartland and Royston Smith, was defeated by 340 votes to 225 yesterday after a House of Commons debate on the legislation.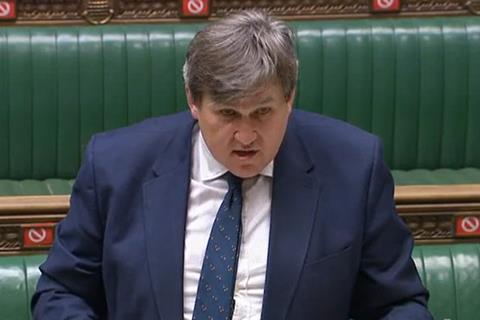 Home Office minister Kit Malthouse (pictured, left) argued that the Fire Safety Bill, designed to make building owners responsible for fire safety on the external walls of buildings, was not the right place for a new law protecting leaseholders from the cost of fire safety remediation work.
Yesterday the prime minister's press secretary, Allegra Stratton, said that adopting the amendment, "far from speeding things up for constituents across the country who are worried about finding themselves in these properties, […] would actually slow things down."
Labour MP and chair of the housing select committee, Clive Betts, also said in the debate that while he supported the intention of protecting leaseholders from the costs of remediation, the proposed amendment did nothing to set out exactly who would pay for any necessary changes.
Yesterday's debate comes just weeks after the government pledged to spend £5bn to help pay for the costs of repairing high risk cladding on high rise buildings. However, the announcement has been criticised for not covering those in building below 18m in height, or in addressing other fire safety issues beyond cladding.
However, Stephen McPartland used his speech to urge the government to work with him and more than 30 other supportive backbench MPs on a compromise to ensure leaseholders were protected from excessive financial obligations. He said the amendment will be immediately re-tabled when the bill returns to the House of Lords, and called on the government to "work with us to ensure that we resolve this issue in the Lords and that leaseholders do not have to pay."
McPartland has previously said that by making building owners liable for the fire safety of the outside of buildings, the legislation if enacted could easily trigger "a requirement for a leaseholder to pay £50,000 within weeks."
Royston Smith said: "In trying to help, the government have satisfied no one and they have upset just about everyone. The leaseholders are not responsible for this. They know they are not. We know they are not. The government know they are not and, therefore, the government's position is now untenable.
"I appeal to the government and to all my colleagues to think very carefully before they abandon thousands of their constituents, because I know this: they will not forget and they will not forgive.