But Labour MP Debbie Abrahams says government action was not enough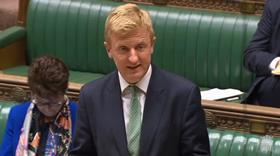 The Cabinet Office has reeled in major government suppliers to "remind" them to pay their subcontractors on time.
The action was revealed by minister Oliver Dowden, who told the House of Commons: "I have brought in strategic suppliers and reminded them of the importance of paying their subcontractors on time."
Addressing MPs last week, he said: "We are backing that up with action."
The Cabinet Office told Building that Dowden (pictured) had hosted two events about payment terms with 15 suppliers in June and October last year.
Three firms operating in the construction sector are on a government list of 30 'strategic suppliers,' which have been assigned crown representatives to keep tabs on their practises and financial health after the collapse of Carillion.
The companies are Kier, Amey and Interserve.
It comes after chancellor Philip Hammond promised the government would do more to tackle late payment, including requiring large companies' audit committees to review, and report on, payment terms.
But late payment campaigner and Labour MP Debbie Abrahams said the proposals were too little, too late.
"The idea of publishing payment performance was the number one recommendation of the all-party parliamentary inquiry I chaired way back in 2013 but the government have done nothing to act on the findings for all these years."
She added: "I'm deeply frustrated that the government ignored the evidence from my inquiry for so long.
"If they had acted more quickly and implemented the recommendations from my inquiry and my bill, tens of thousands of small businesses would have been protected from the collapse of Carillion and the scourge of late payments."