Over £4.6bn forked out so far
Government schemes to support firms and self-employed workers hit by the covid-19 pandemic have paid the wages of nearly 1.5m construction workers, according to new data from HM Revenue and Customs.
The Coronavirus Job Retention Scheme (CJRS) for furloughed employees and the Self-Employment Income Support Scheme (SEISS) has seen the Treasury fork out £4.6bn to construction workers by the end of last month.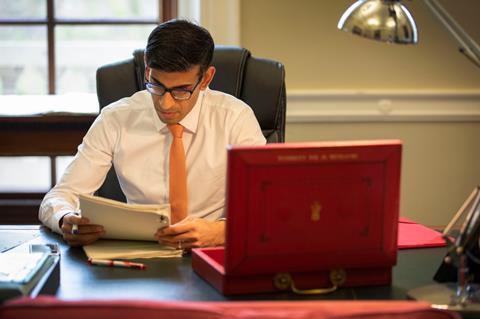 Of the 1.5m workers, 46% were supported by the government furlough scheme and 54% were supported by a parallel scheme for the self-employed.
Construction has the largest share of firms to have furloughed staff out of all sectors, with 48% of firms.
And the sector had the third highest share of its workforce furloughed, at 40.5%. Only the arts and entertainment and accommodation and food services sectors have furloughed a greater percentage.
So far, the total value of claims made on the CJRS across all sectors is £19.6bn, with a further £7.5bn of claims made on the SEISS.
Chancellor Rishi Sunak (pictured) announced last month that the CJRS would stop at the end of October this year, with the SEISS offering a second and final grant of up to £6,750 to self-employed workers in August.