Communities department offers up to £50,000 to councils wanting to fast-track homes on brownfield sites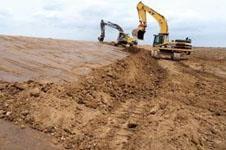 The government has offered up to £50,000 to councils that want to create fast-track planning areas to bring forward housing development on brownfield sites.
The Communities and Local Government department invited local authorities yesterday to bid for the cash as part of its drive to provide 200,000 homes on previously developed land in England.
The move comes in the same month the government shortlisted 29 brownfield sites across England for new housing powers and a share of a £200m pot of funding to kickstart schemes.
In the latest move on planning, ministers say they will award grants of up to £50,000 to councils that are prepared to establish local development orders (LDOs) on brownfield plots that are ready to be built on and can deliver more than five homes.
In an area where a LDO is in place, there is no need submit a full blown planning application for a scheme as long as it conform with the uses permitted in the order.
The LDO sets out a framework covering the scale and location of development together with issues like design and infrastructure provision.
The CLG said that councils could prepare LDOs in partnership with developers.
The government aims to cover 90% of suitable brownfield land with LDOs by 2020. It wants to use the funding to support the establishment of around 100 of the fast track planning zones across the UK.
Melanie Leech, chief executive of the British Property Federation, welcomed the government's announcement but expressed concerns over councils' capacity to deliver the LDOs.
"We are slightly concerned that, as local authorities are so lacking in resources right now, it is going to be difficult for them to implement this policy, but look forward to working out the detail with government to iron out the detail."
The government's drive to stimulate housing on brownfield sites follows widespread criticism that it has backpedalled on efforts to bring such land back into use in favour of easier to develop greenfield plots.