National Audit Office takes ministry to task over huge overruns on nuclear submarine schemes
The National Audit Office (NAO) has slammed the government over years of delays and a cost overrun of more than £1bn on a trio of infrastructure schemes designed to beef up the UK's Trident submarine nuclear deterrent being developed by the Ministry of Defence (MoD).
A new NAO report said the MoD's "poor management" of three projects on its nuclear-regulated sites had contributed to a combined cost increase of £1.35bn and delays of between nearly two and six years.
The final combined cost of the schemes is estimated to be £2.5bn, versus £1.2bn originally.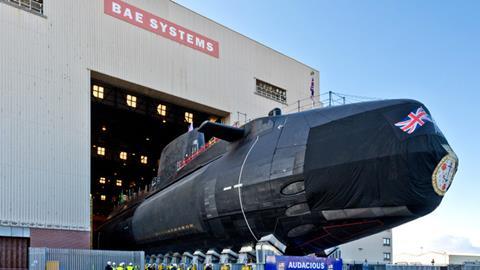 The projects reviewed by the NAO were a new nuclear warhead assembly and disassembly facility, known as Project Mensa, at the Atomic Weapons Establishment (AWE)-operated site near Reading, as well as an upgrade of a Rolls Royce-operated site in Raynesway, near Derby, which will develop nuclear reactors for Dreadnought submarines.
It also looked at construction of new facilities at the BAE Systems-operated dockyard in Barrow-in-Furness (pictured) to support modular construction techniques to build new submarines.
Main contractors on the three MoD jobs
Project Mensa, Reading – Costain (previously AWE, until 2017)
Raynesbury reactor project – Rolls Royce
Barrow-in-Furness – Morgan Sindall
The AWE site will be delivered in 2023, six years behind schedule, and cost £1.8bn, 145% more than originally forecast. The Rolls-Royce site will be completed in 2026, five years late, at a cost of £474m, up 45% on earlier forecasts.
And BAE Systems' new facility will be nearly two years late in completion, costing £240m, up 111% on original projections.
The NAO said some of the schemes' designs could have cost more than forecast because construction started before the requirements or designs were fully developed. And the contracts created by the MoD meant the taxpayer had to stump up for cost hikes, rather than the contractors.
And while some of the preliminary construction work had been finished on the schemes, the NAO said the MoD "still needs to manage the remaining commercial risks and learn the lessons for future projects".
While he accepted the projects were complex, Gareth Davies, the head of the NAO, said the MoD should have learned earlier from past mistakes and the experience of others in the nuclear sector.
"Instead, the MoD's failure to mitigate commercial and delivery risks early on has led to project delays and cost increases, as well as impacting its wider work," he added.
Responding to the NAO report an MoD spokesperson said: "As the National Audit Office has acknowledged, nuclear infrastructure projects are often large and complex with niche designs. We are carefully examining the conclusions in their report and will respond formally in due course.
"We are committed to strengthening the management of nuclear programmes, including investing significantly in infrastructure and working closely with regulators and industry partners."