Government publishes details and calls for bids for private rented and affordable housing guarantee scheme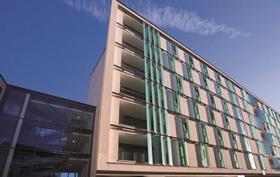 The government has published much-awaited details on the structure of its £10bn guarantee scheme for affordable and private-rented housing schemes.
The scheme, announced last September as part of a raft of measures aimed at boosting housing and infrastructure, will see the government underwrite up to £10bn of loans to housing associations and developers looking to build homes for rent.rent.
It is an extension of the £40bn UK Guarantees programme announced last July, designed to kick-start development by increasing the availability of cheap loans and finance for construction.
Under plans outlined today, the scheme will be divided into two parts: private rented and affordable homes.
The private rented sector guarantee will back a variety of options to invest in new homes for private rent, from building new homes to converting existing commercial spaces into rental properties.
It will make finance available for projects in any part of the UK that have a minimum value of £10m. The new homes will have to remain in the private-rented sector until the money is paid back.
The Department for Communities and Local Government (DCLG) said the approach would reduce the risk for lenders, as it would guarantee to repay money in the event of default from borrowers.
This should enable housing providers to borrow at well below current rates, and therefore encourage more investment in the private rented market whilst ensuring checks are in place to protect taxpayers money, DCLG said.
The second scheme will be available to support new affordable housing projects, unlocking development for up to 15,000 new homes, on top of the government's existing house-building programmes, DCLG said.
DCLG said this would be complemented by £225m of grant funding, for registered housing providers in England to deliver up to 15,000 new homes for affordable rent or affordable home ownership.
Housing minister Mark Prisk said: "We're introducing groundbreaking measures to unlock the vast, untapped potential for growth in the private rented sector. Investors will now be able to draw upon low-cost lending so they can bring thousands of new homes into the market.
"The housing guarantee schemes will help to get spades in the ground, create jobs, and establish new business models that will ensure the private rented sector continues to grow and more affordable homes are delivered."
For full details on the rules of the scheme available here:
How will the guarantees work?
DCLG says …
An investor wanting to build a block of 100 flats that they will then offer for private rent. The value of the built flats will be £20m. They can apply to the guarantee scheme for up to £16m, or 80% of the end value.
To qualify, the homes must not yet have started on site, be well-designed and commercially viable with a plan for rental management, and meet the scheme's stated criteria. If the application is successful and the scheme goes ahead as planned, the government will guarantee their debt until it is repaid.