Scheme designed by Hopkins Architects
Graham has won a deal to build an indoor swimming pool at top public school Eton College, the alma mater of Boris Johnson.
The pool (pictured) has been designed by Hopkins Architects and will replace an outdoor pool.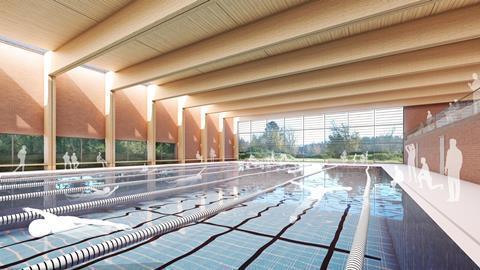 The three-storey facility, called the Eton Sports and Aquatic Centre, will include a 25m pool with a moveable floor, a four-court badminton hall, a bar and spectator areas.
Graham is also building two pedestrian bridges and upgrading an access road to the site.
Load bearing piles are already being installed on the site by civil engineering firm Dawson Wam.
Also on the project team is engineer Cundall Johnston & Partners, QS and project manager Gardiner & Theobald, planning consultant Savills, landscape architect Townshend and heritage consultant Turley Associates.
The new pool is one of two planned sports centres for Eton, where annual fees top £42,000, which were given planning approval by Windsor and Maidenhead council in December 2018 – despite being recommended for refusal by planning officers for being harmful to the green belt.
The other facility, also designed by Hopkins, is an indoor sports centre featuring a rifle range, squash courts and a climbing wall.
Graham recently completed a £24m sports centre for Oundel School in Northamptonshire featuring a 50m pool.