Contractor lined up to build new cargo terminal, waterfront and marina at Port of Dover's Western Docks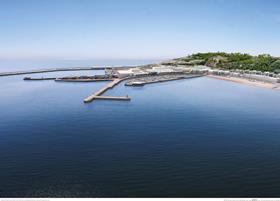 Graham Construction has signed a pre-construction deal with the Port of Dover to revamp its Western Docks harbour.
The project will involve the construction of a new cargo terminal as well as a waterfront development and marina.
The contractor will finalise the infrastructure design and cost plans for the scheme's marine civil engineering works.
A successful outcome from the deal is expected to lead to Graham winning the principal construction contract, with a view to work starting on site by early 2016 and the Western Docks cargo terminal opening in 2017.
The project is expected to create 600 new jobs, and safeguard the existing 140 jobs at the Dover port. Up to 200 construction workers are expected to be on site during the project's peak.
Tim Waggott, the Port of Dover's chief executive, said the project "is a key part of our vision to create the best port in the world for the benefit of our customers, the local community and the UK economy."
He added: "The team from Graham has a strong reputation for collaborative working and this will give the opportunity for Kent companies to tender for as many parts of the project as they feel able to deliver."
Malcolm Loader, business development director for ports at Graham, said: "It is our intention to work with the local supply chain to ensure we not only provide value to the Port of Dover, but also to create a lasting legacy for the community."