Plans for industry to reduce emissions by 80% by 2050 to be published later today at Ecobuild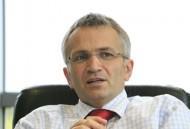 The Green Construction Board will unveil its routemap for the industry to achieve an 80% reduction in carbon emissions from the built environment by 2050 today at Ecobuild.
Devising the routemap was one of the key actions from the government's Low Carbon Construction Action Plan.
Key findings of the routemap include:
Meeting the 80% reduction target is technically possible, but very challenging

Success is dependant on improving the economic viability of technical solutions and addressing market failures

Taking responsibility for carbon reduction at an industry level is essential to driving uptake and delivering results as quickly as possible

The drive to 80% carbon reduction represents an economic opportunity, particularly in retrofitting domestic buildings
The routemap will be launched by former chief construction advisor Paul Morrell later today at Ecobuild.
Mike Putnam, president and chief executive of Skanska UK and co-chair of the Green Construction Board, said the routemap would "inform the ongoing dialogue between government and industry".
He added: "I firmly believe that it is possible to significantly reduce carbon by applying clear leadership and challenging solutions, focusing upon whole life costs of the asset, covering both capital and operational carbon, as well as costs."