Chief executive of company that provides Green Deal finance warns it could be wound up soon unless it gets more funding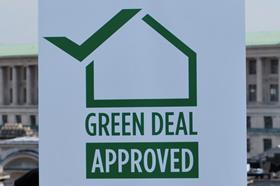 The company set up to provide loans through the flagship Green Deal scheme could go bust unless a new funding deal is struck with the government, the firm's chief executive has warned.
The Green Deal Finance Company (GDFC) issues and administers the finance plans that pay for energy efficiency retrofit work on homes under the government's Green Deal scheme.
It's role is crucial as it aggregates plans allowing them to be sold at a low enough interest rate to make the scheme attractive to customers.
But speaking to Building, GDFC chief executive Mark Bayley warned the company needed more cash if it was going to survive.
He said: "The problem we are facing we have been paying out on plans at £1.25m a week and we are going through cash quite quickly.
"There is a risk that if we cannot get further funding growth, the company will have to be wound up."
The company has a £125m credit facility with the Green Investment Bank and although the company has only issued £20m of plans to date the facility is due to expire soon.
Bayley would not say when the facility was due to end but did say a decision on how to fund the company was required by 14 October, when the GDFC has its next board meeting.
He said the GDFC needed to be funded "through 2015".
The warning is the latest blow to hit Green Deal, which was launched in January 2013, but has struggled to gain traction, with just 1815 Green Deal plans completed at the end of July.
Earlier this month the Commons energy committee slammed the Green Deal as "failing", "flawed", "inefficient" and "poorly implemented".
Bayley said he was in discussions with the Department of Energy and Climate Change (DECC) and the Green Investment Bank (GIB) for further funds, which are both already sizeable investors in the GDFC.
He said: "The reason why DECC and GIB [need to provide the money] is that the programme rests on an innovative financial product and it's not at the state where we can borrow commercially."
Bayley said he needed "between two and three years" of records to show commercial investors the default rate on the loans was low.
He confirmed that even if the GDFC were able to borrow commercially now it would likely be at a higher interest rate which would push up the interest rate of Green Deal plans.
His comments follow a letter he sent earlier this week to investors, which warned investors of the possibility of a "voluntary liquidation" and sought consent to apply certain measures that would "make it much easier to wind up the GDFC at lower cost to investors if we need to go down that route".
Bayley said he was optimistic a solution to the funding issues could be found, but that it would be "irresponsible for us not to be utterly frank" with the GDFC's investors.
A DECC spokesperson said the department would not comment on private discussions between a private company and its other investors.
She added: "We remain committed to the principle of pay-as-you-save home energy improvements, and we want to reassure people with finance plans that there is no risk of them being adversely affected."