London mayor and communities secretary approve plans for Kodak site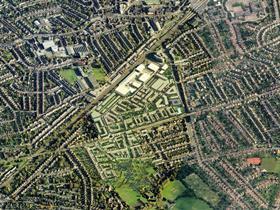 Land Securities' £320m plans to build 2,500 homes on a 40-acres of land in North West London have passed a crucial hurdle.

The proposals to develop the Kodak and Zoom Leisure sites in Wealdstone have now received the final approval of London Mayor Boris Johnson and communities secretary Eric Pickles.

Harrow Council said the proposals had the potential to create 3,000 new jobs through a combination of new development opportunities and public-realm improvements.

The plans include a new primary school, a local medical centre, a community centre, a supermarket, offices and workspaces and new specialist housing for older residents.

Two-hundred new affordable homes are expected to be constructed as part of the development, and more than £9 million in funding is being provided for improvements to public transport, roads, sports facilities, and for Headstone Manor.
A package of environmental measures for the Harrow View development will also see the creation of a district heating system, which will be owered by a boiler located in a multi-storey car park.
Work is expected to start on site in early 2014, with the whole development taking an estimated 10 years to complete.
Planning and regeneration lead Councillor Keith Ferry said the scheme had been a long time in the planning but would pay long-term dividends in the borough.
"The next 10 years will see a transformation of an area that has been historically very important to Harrow," he said.
"As a council we are determined to deliver on our promise to regenerate and build the most sustainable community in Harrow and to establish a thriving residential and commercial centre."