A £50m housing development has been approved by Blackpool council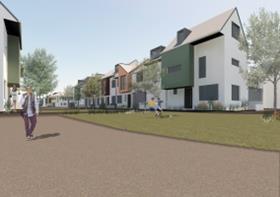 The 400-home scheme, developed by Hollinwood Homes, part of the Marcus Worthington Group, has been designed by Broadway Malyan and consists of two, three and four bedroom homes, as well as 70 social housing properties for Great Places housing Group.
A series of walkways in the scheme, called Foxhall Village, will link both sites up to Blackpool's promenade, town centre and nearby parks. There will also be communal gardens for residents.
Rigby Road will also undergo a series of improvements as part of the area's wider regeneration. This will connect the two areas that make up the whole site.