Glenn Howells Architects has won planning permission for the second phase of the Royal Wharf development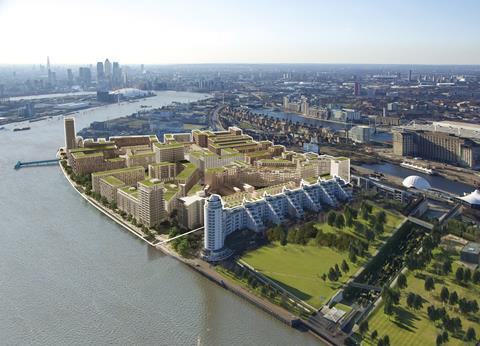 The second phase of the scheme, called Minoco Wharf, comprises 1,300 apartments and houses, in addition to the 800 that have already received planning as part of the first phase of the scheme.
The scheme is overseen by Glenn Howells Architects who has been working with Feilden Clegg Bradley Studios, Mae Architects and Serie Architects to design buildings within the masterplan.
The latest stage of the 16ha project in the Royal Docks centres around a 14-storey building designed by Mae with 100 flats above ground-floor restaurants (see image below).
The overall masterplan for the scheme, jointly developed by Oxley International Holdings and Ballymore, comprises 3,600 homes, a riverside walk and a primary school.
Completion of the second phase is expected in 2017.
Glenn Howells, director of Glenn Howells Architects said: "We are delighted that the latest phase of Royal Wharf has been given the go ahead.This is one of the largest and most complex developments in London that will take shape over the next couple of years.
"The latest phase has been designed to provide striking buildings integrated with high quality landscape, the idea here being to create a landmark place rather than just landmark buildings."