Project manager quizzed on notebooks "binned" months after fire while boss seeks to justify pre-appointment talks with Rydon
The inquiry into 2017's fire at Grenfell Tower heard two astonishing revelations in the first 15 minutes of hearings this week – both of them related to senior staff at the building's management organisation, which was the client for the project's fatally botched refurbishment.
At the opening of Monday's session, inquiry lead counsel Richard Millett QC said that lawyers representing Kensington and Chelsea Tenant Management Organisation had flagged the existence of a stack of previously undisclosed diaries and notebooks belonging to witness Peter Maddison.
The Grenfell Tower Inquiry heard the submission came after Maddison – director of assets and regeneration at KCTMO during the refurbishment that led to 2017's fire and 72 deaths – had seen his colleagues giving evidence last week and talking about the lack of notes being taken at meetings.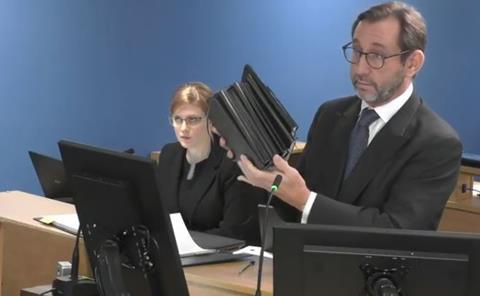 Millett said Maddison's notebooks plainly contained "material of the utmost relevance". He said that the former director and KCTMO legal team Kennedys were "going to have to give clear and convincing explanations" of why the documents were not disclosed to the inquiry or the Metropolitan Police earlier.
Minutes later, Claire Williams – who was KCTMO's project manager on the refurbishment – was asked whether she had disclosed all of her notebooks, diaries and records to Kennedys.
"Yes," she replied. But continued: "I left the TMO in May 18 and I binned all of them but the last one."
After a period of silence, inquiry chair Sir Martin Moore-Bick asked Williams for more information.
"I believe I looked at them and they were notes," she said. "Everything that was in there, I would have thought is actually documented elsewhere."
Moore-Bick said he found it difficult to understand how Williams could have thought that the notes she had kept might not add something of value to the formal records and why she should think it right to take it upon herself to decide the answer to that question.
"As I'm sitting here now, I agree with you," she said.
Williams subsequently confirmed that she had not informed the Metropolitan Police that she had destroyed documents that may have been relevant to their investigations into the Grenfell Tower fire.
She insisted there was "nothing underhand" in her disposal of the notebooks. "I was clearing my desk," she said.
Later on Monday, Williams was questioned in more detail about her role on the refurbishment project, which saw Grenfell Tower clad with combustible composite material (ACM) panels and combustible insulation.
She was asked about her "Lakanal moment" queries over the safety of the cladding being installed on the tower and the lack of documentation she received in response to requests for confirmation that the materials were safe. The phrase "Lakanal moment" referred to Williams' recognition that combustible cladding had played a role in the 2009 fire at Lakanal House in Southwark, which claimed six lives and led to the prosecution of landlord Southwark council.
Williams told the inquiry she believed Rydon contracts manager Simon Lawrence had given her a verbal assurance along the lines of "of course it meets those standards" in answer to her "Lakanal moment" query at a later site meeting.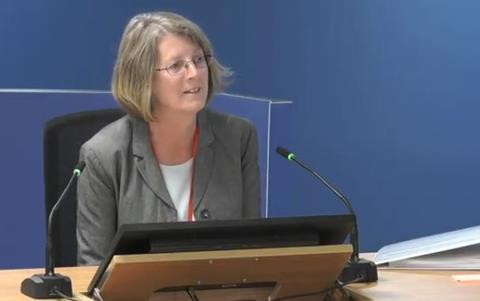 Millett asked her whether she had any recollection of Lawrence actually answering the question. She replied "no".
Millett also asked Williams why she had not pressed Rydon for a clear written answer to her question, given that it broached serious safety issues. "In hindsight, I wish I had," she responded.
Williams claimed to have been at a meeting hosted by KCTMO consultant Artelia when Lawrence assured her colleague David Gibson that the cladding being put on Grenfell Tower was "completely inert". No minutes of any such meeting exist and Lawrence denies giving such an assurance.
Also on Monday, Williams admitted that she had not read an early stage fire safety assessment for the Grenfell Tower refurbishment project, written by consultant Exova for the TMO in November 2013.
The document said: "It is considered that the proposed changes will have no adverse effect on the building in relation to external fire spread but this will be confirmed by an analysis in a future edition of this report."
It was written before key decisions on the combustible ACM and combustible insulation fitted to Grenfell were taken. But it was never updated as Exova were not retained as a consultant on the project after Rydon became main contractor in 2014. The firm continued to provide advice on a ad-hoc basis, however.
The 2013 Exova report was sent to Williams in April 2016 when she asked for the most up-to-date fire safety strategy for the project. She told the inquiry she had not read the report and did not know it needed to be updated.
She told the inquiry she "assumed" that the project team was "on board" with safety but had not updated the document yet.
On Tuesday, Williams told the inquiry that she had been "frustrated" by main contractor Rydon's slow progress with the refurbishment in its final months but did not feel the firm was doing a bad job in terms of the quality of work being delivered.
"Everything was progressing but at a sedentary rate," she said, citing a lack of cladding fitters flagged by one of the TMO's clerks of works and "slow workmanship" in the new flats being delivered at the tower's lower levels.
"Nobody had any comment about the quality; it was rather the slow progress, that they hadn't employed enough subcontractors to meet the programme."
Williams was asked about a complaint citing he "appalling quality of work" made by Grenfell resident David Collins shortly after the TMO and Artelia had raised a list of grievances its concerns with Rydon in 2016.
She said she had been satisfied that the complaint from Collins referred to work in progress that went on to be "properly finished".
Williams broke down in Tears when Millett presented her with an email she had sent to colleagues in the late morning of 14 June 2017, while the blaze at Grenfell Tower was still being brought under control.
The email contained key documents in relation to the fire and was written in a business-like tone.
Millett noted that the email lacked "any suggestion of surprise or shock that the building was burning" in the light of the assurances she said Simon Lawrence of Rydon had given to her and David Gibson, who had been head of capital investment at KCTMO.
KCTMO director of assets and regeneration Peter Maddison began his evidence on Wednesday.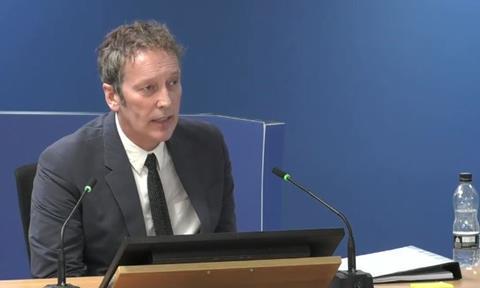 He was asked about his attendance at two KCTMO-organised health and safety meetings that discussed lessons to be learned from the Lakanal House fire in Southwark.
Millett read from the minutes of the 16 March 2017 meeting, which confirmed that the Lakanal House paper was discussed. "It was noted we were compliant with the offences for which Southwark was prosecuted," he read.
He asked Maddison if he remembered to what extent the meeting had reviewed KCTMO's own systems and arrangements for complying with the relevant obligations that Southwark's breached.
"I'm afraid I don't," he said.
Maddison also said he did not know the basis on which KCTMO had been confirmed as "compliant" with the Regulatory Reform (Fire Safety) Order 2005.
Maddison said he had not drawn any connection between Lakanal House and the Grenfell Tower refurbishment project, which had reached practical completion in the summer of 2016.
Millett asked if he had any recollection of the question of the combustibility of the cladding being used on Grenfell Tower being discussed with him in particular in the context of the Lakanal House fire.
"No, not specifically," he said.
On Thursday, Maddison was questioned at length about his involvement with the procurement process through which Rydon was selected as main contractor for the Grenfell refurbishment.
The inquiry head he knew senior Rydon figures Stephen Blake and Jeff Henton before he started at KCTMO and had made a diary note to remind Henton about the OJEU process to find a design and build main contractor to replace Leadbitter, who had originally been brought onto the refurbishment because it was working on the neighbouring Kensington Academy and Leisure Centre project for the Royal Borough of Kensington and Chelsea.
He also admitted telling Henton that Rydon's bid was in first place before the OJEU process was complete and setting up negotiations about value-engineering options to shave £800,000 off the firm's winning price of £9.2m.
Maddison said getting "clarification" on the approach to cost reduction for the project was critical for getting KCTMO's board to approve Rydon's selection as preferred bidder because its winning price was above the TMO's £8.5m budget.
He rejected Millett's suggestion that it had been "improper" in terms of procurement rules to informally tell Rydon it was in first place while the OJEU process was still live.
"I wouldn't call it improper," he said. "We took legal advice on that. The advice was not that it was illegal or improper."
The inquiry continues