The Pimlico plans would see the 175-year old yard turned into retail and residential space
A battle to save an historic timber yard in an exclusive part of London from redevelopment has taken a new twist, after the High Court accepted an application to legally challenge the approval decision.
More than 2,000 local residents in Pimlico and Belgravia, south west London, have already signed petitions urging the Grosvenor Estate to withdraw its planning application and to keep the yard intact, citing what the campigner claims to be the economic and cultural value of the premises.
Last autumn, Westminster City Council gave the go ahead for Aukett Swanke's controversial designs (pictured above) to turn the last surviving historic timber yard in England and Wales into shops for land owner and developer Grosvenor.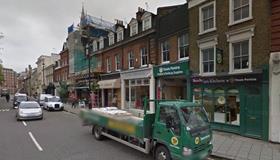 The approved proposals will see the 175-year old Newson Timber Yards' surrounding retail units and five residential dwellings converted into four retail units and seven residential dwellings.
Builders' merchant Travis Perkins, which occupies the site, applied for the judicial review, while the residents' protest has the backing of the chairman of Save Britain's Heritage, Marcus Binney who described Grosvenor's original plans as "like a scowl in the midst of a row of smiling faces".
The Grosvenor Estate's approved plans would see the 175-year old yard turned into retail and residential space.
Local MP Mark Field recently visited the yard and appeared to give his backing to the campaign to save it from redevelopment.
"It is vitally important that businesses providing essential services like the timber yard are protected," he said.
A spokesperson for the Grosvenor Estate said: "As an interested party, we are ready to assist the review in any way required."
The spokesperson added that while none of the affected buildings were listed, it recognised their contribution to the conservation area and had committed to preserving the historic character of the builders' merchant and preserving its double height space.
"We also made a number of changes following feedback from discussions with more than 250 local people so that our proposals support and enhance what is here already."
Martin Meech, group property director for Travis Perkins, said: "So far in this case, The Grosvenor Estate and Westminster City Council have expressed a disappointingly dismissive attitude towards the views of local residents and businesses.
"With over 350 objections, it does not have public, business or wider community support. As we approach the judicial review, further obstacles are now in play, namely increasingly high rents and changes to business rates for retail, which are likely to make it difficult for the Estate to find the new tenants needed to make the proposed development viable.

"With fresh leadership at the council and news that permission has been granted for a judicial review, we would strongly urge both the council and the Grosvenor Estate to relook at and assess the appetite for losing a historic, economically proven and important building to the local community.

"Travis Perkins want to make it very clear to colleagues at the timber yard and to the community in Belgravia that this issue has not reached its conclusion."