This week the elusive Ray O'Rourke breaks cover but not on the internet, the NHBC discovers that housebuilders and X Factor winners don't mix and the Chinese push boundaries with speedy building
London pad
I was intrigued to hear a little known fact this week - namely that the RICS lays on a grace and favour property for its president. The institution points out the property in Vauxhall, south London, only cost the RICS £18,000 in its financial year ended 31 July 2011, when Robert Peto was its president. But now that the organisation's president See Lian Ong spends much of his time overseas looking after his Malaysian-based QS firm, is the property value for money? RICS says it is. Ong has spent 50% of his time working from his London base according to a spokesperson, who added that RICS has the flat so it can "welcome presidents and their families from any part of the UK or overseas".
Camera shy
Laing O'Rourke is well known for keeping its cards close to its chest so it was surprising to see chief executive Ray O'Rourke make a rare outing as a conference speaker. He appeared at the Institute of Civil Engineers' Innovation in Construction conference to talk about the firm's progress using offsite manufacturing. O'Rourke was an engaging speaker, mixing up videos extolling the virtues of the firm's offsite manufacturing facilities with some amusing health and safety blunders. But old habits die hard, O'Rourke may have got over his reluctance to air some of his firm's ideas at a public conference but going out to a wider audience was obviously a step too far. The conference proceedings were broadcast live over the internet, except for Ray O'Rourke's session. Internet listeners were told the content
was too "sensitive" for broadcast, so presumably had to endure some muzak instead.
Ladies' night
The NHBC's Pride in the Job gala dinner last Friday was as glamourous as ever, despite the difficult economic times, attracting the chief executives of Barratt, Persimmon and Bovis Homes alongside the cream of the nation's site managers. But the entertainment was, perhaps, not perfectly pitched for a room full of housebuilders. It was 2009 X Factor winner and housewives' favourite Joe McElderry, whose hit single The Climb - in case you needed reminding - was the 30th biggest selling of the last decade. With the nation's site managers still overwhelmingly male, McElderry's gutsy set seemed to be enjoyed more by the assembled WAGs than the award finalists themselves.
A charitable start
Christmas may be the traditional time for giving, but construction's appetite for goodwill has run over into the New Year. Last Friday construction rock band The Instigators - made up of Chris Liddle from HLM, Mike Warren from Scott Brownrigg, Graham Harvey-Browne from Synergy Construction and Roger Matthews from Studio Arlington - handed over a cheque for £5,000 (raised from gig tickets) to UK troops charity Help for Heroes. A more unusual gift came from aggregates giant Lafarge, which planted 12,000 trees in Redbridge, east London, as part of a scheme to bring woodland closer to urban communities. Hats off to both.
Blink and it's built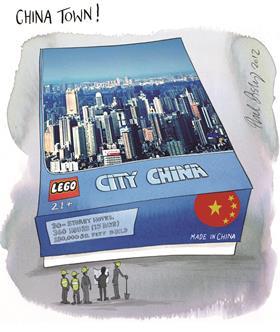 As UK contractors begin rolling out prefabricated construction models for everything from homes to schools, it must be galling to see Chinese firms getting ahead of the game. A remarkable time-lapse video of Chinese contractor the Broad Group constructing a 30-storey hotel in just 360 hours (or 15 days) was one of Building's most read stories online this month. The 180,000ft2 building in the south-central Chinese city of Changsha was made almost entirely of pre-fabricated components. It appears China, already constructing 124 skyscrapers, can now build skyward even more quickly. The mind boggles.