Claire Kober resigns over pressure to scupper 6,400-home project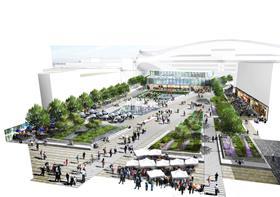 Lendlease's £2bn housing scheme in Haringey, north London has been thrown into doubt after the council's leader quit over an escalating row into the project.
Last July, Lendlease signed a deal with Haringey council to build 6,400 new homes in the borough, with the programme also including improvements to community facilities and public spaces.
Known as the Haringey Development Vehicle (HDV), it is a 50:50 private-public partnership between the council and Lendlease. It is proposed to deliver £2bn of new development – measured in 2015 prices – over the next 15-20 years.
But Claire Kober's decision to step down at the local elections in May comes after members from Momentum, a left-wing political organisation that is seen as supportive of Jeremy Corbyn, asked Labour's ruling body, the National Executive Committee (NEC) to intervene in the HDV. The NEC later said the council should abandon the scheme.
Kober confirmed that she will leave a final decision on the stalled project to the next council leader.
In an explosive letter sent to the NEC following her resignation, Kober said that 3,000 families in the borough are in temporary accommodation - among the highest of any London borough - and 9,000 families on the housing waiting list.
"Ideological dogma will do nothing to improve their lives; only a determination to find practical solutions – in partnership with other sectors – offers them any realistic prospect of a better, more secure future.
"For me, the responsibility of political office is to work to improve people's lives even when that means finding solutions that aren't always an ideologically comfortable fit. Political issues are rarely binary; solutions are not simply good or bad.
"Political leadership is about setting a vision and working to deliver on it using whatever tools are available. That is how we deliver improved outcomes for the communities that seek to gain most from Labour in government, be that local or national.
"The principle of autonomous local government is a cornerstone of our democracy and one I had hoped that the national executive of my party would share. Sadly this appears not to be the case. Directing a Labour Group in this way is not only legally dubious but also democratically unsound."
Lendlease said in a statement: "We respect the decision announced by Haringey's leader Claire Kober.
"Lendlease remains committed to the people of Haringey and helping deliver the new homes, infrastructure and community facilities that everyone agrees are much needed. We stand ready to discuss the way forward."
Haringey council said establishing the HDV remains its agreed approach to "providing much needed homes and jobs on its own land", with Lendlease remaining its preferred partner.
The row in Haringey escalated in 2016 over the plan to transfer council assets and land into the 50:50 partnership with Lendlease. Campaigners are reportedly outraged, and believe the council is agreeing to privatise its assets and that the regeneration of homes prices out locals.
Those opposing the HDV are undertaking legal proceedings against Haringey council, with the result of a judicial review expected shortly.
During his speech at the Labout party conference last year, Corbyn said too many council regeneration schemes amounted to "forced gentrification and social cleansing".