Attempt to derail scheme is 'ludicrous and devastating,' says designer
Garden Bridge designer Thomas Heatherwick has berated opponents of the planned £175 million scheme, calling their attempts to stop the project "ludicrous".
The bridge has become increasingly controversial with opponents worried about the amount of public money being spent on the project.
There have also been claims that the procurement process was flawed and weighted in favour of Heatherwick while operator Garden Bridge Trust was caught up in a row over whether popular children's game Pooh sticks would be allowed on the bridge – and not in breach of a list of 30 prohibited activities it has drawn up.
Last month the leader of Lambeth council, one of the two planning authorities to have already given it the green light, wrote to London mayor Boris Johnson telling him that she was calling off negotiations over the land required for it "until a more appropriate funding model is brought forward".
Taxpayers are providing £60 million of its cost and in her letter to the mayor Lib Peck added: "The Garden Bridge has gone from being a 100% privately funded project to one with a substantial cost to the taxpayer."
But in an interview with the Evening Standard, Heatherwick complained that he was becoming fed up with opponents of it.
"The intentions behind the bridge are entirely social and altruistic," he said. "The fact that it could be held back by a small group of people who are determined to derail it is completely ludicrous and devastating."
He added the bridge would allow "normal people" to witness a previously unseen view of London.
"Scepticism can be a very positive force but it can also be deeply unhelpful and hold back progress. This project is so special because it is for everybody. It will open views and spaces in London that normal people have never seen before."
Heatherwick, who last year was forced to apologise to the four architects whose plans for the redevelopment of the Royal Mail's Mount Pleasant sorting office he criticised, added: "When St Paul's Cathedral was being built there was a huge amount of negativity – now no-one would dream of saying that should never have been built."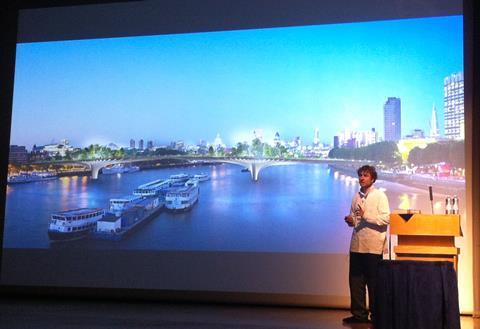 Garden Bridge Trust executive director Bee Emmott, who worked at Heatherwick Studio for four years before taking up her current role in 2013, told the same paper that she was worried about the bridge facing a logistical battle with the Thames Tideway Tunnel.
Major works on the bridge need to be completed if it is to avoid clashing with the scheme known as the super-sewer.
Emmott said it was still talking to Lambeth to get them back around the table but admitted: "The problem is that if the project is held up for month upon month then timing becomes a real issue."
According to the trust's own timetable, construction on the bridge will start this coming January with the main bridge structure installed between May and October 2017 ahead of the bridge opening the following June.
Source
This story first appeared on Building Design