Scheme is expected to wrap up in October next year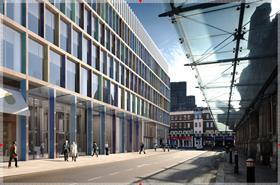 Helical has signed a £120m deal to create an office-led scheme at Farringdon East Crossrail station.
The deal, which the developer reached with Transport for London, will see a new 150 year lease granted on handover of the site.
The site has planning permission for a PLP-designed office building, which includes a retail or restaurant unit on the corner of Lindsay Street and Charterhouse Street, all above the Farringdon East Crossrail Station.
The building will sit immediately to the east of Smithfield Market with views over Charterhouse Square and includes a roof terrace with views towards St Paul's Cathedral.
Construction is expected to start shortly after handover in April. No contractor has yet been formally appointed to the work.
Farringdon East Crossrail Station is due to be operational in December 2018 and will make Farringdon one of the biggest transport interchanges in Britain with 140 trains per hour.
Farringdon will be the only station from which passengers will be able to access all three rail networks – Crossrail, Thameslink and the London Underground – and is expected to receive 27 million passengers a year.
Graeme Craig, director of commercial development at TfL, said: "It is fantastic to see the sites above some of the major central London stations progressing. They will deliver much needed homes, office and commercial space and have been planned as an integral part of the development of the new railway, supporting new jobs and driving economic growth."
The scheme is expected to be finished in October 2019.