Home Builders' Federation raises concern about impact of new eligibility criteria on flagship government scheme
The Help to Buy equity loan scheme no longer works for buyers in many parts of the country due to stricter eligibility criteria, the Home Builders Federation (HBF) has warned.
Official data released last week showed a 29% drop quarter-on-quarter in purchases of properties through the scheme for the three months to 30 June. This followed the introduction of criteria which restricted the scheme to first-time buyers and brought in regional price caps from 1 April.
The figures, which also show a 27% decrease on sales in the comparable period in 2019 pre-pandemic, prompted housebuilders to warn the scheme is not fit for purpose in swathes of England.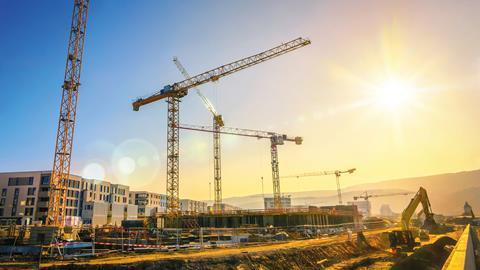 An HBF spokesperson said: "New scheme rules have made the scheme effectively unviable for buyers in parts of northern and midlands regions.
"The large drop offs in Help to Buy-supported purchases in areas where the scheme had been very popular such as Manchester, Wigan, Cheshire, Newcastle and Rugby are unsurprising."
The comments follow Britain's largest housebuilder Barratt saying in October just 21% of its homes were sold under the scheme between July and October, compared to 51% in the same period the year before.
But the HBF spokesperson added that sales rates in the market overall are "at very high levels" and indicate a reducing reliance on Help to Buy.
From 1 April Help to Buy, which offers an equity loan of 20% of the price of a new build home (40% in London), has only been available to first time buyers who have not previously "acquired via purchase, gift, trust or inheritance, a major interest in a property either in the UK or abroad". The new version of the scheme also introduced regional purchase price caps, based on 1.5 times the average regional first-time buyer price, ranging from £186,100 in the north east to £600,000 in London.
Last week's figures shows there were 10,824 homes bought through Help to Buy in the three months to June 30, down from 15,350 the previous quarter and 14,913 in the three months to June 30 2019, before the pandemic.
The true impact of the changes won't be fully reflected in the statistics until next quarter however. Around one in five of the 10,824 completions were actually through the previous version of the scheme with more generous rules. This was because the government extended the scheme until the end of May for purchases delayed due to covid-19.
The Department for Levelling Up, Housing and Communities has been approached to respond to the HBF's comments. A spokesperson for the Department last week said about the figures overall that it had "anticipated delivery would be lower compared to the previous Help to Buy scheme."
The spokesperson added: "Help to Buy is just one of the ways we are making homeownership more achievable and affordable, and our shared ownership and First Homes schemes are supporting many more people into homes of their own."