Work at Suffolk base has £4.3m pricetag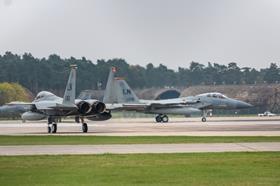 Northern Ireland contractor Henry Brothers has won a £4.3m deal to upgrade facilities for the US military at RAF Lakenheath in Suffolk.
The job has been let by the MoD's Defence Infrastructure Organisation and is part of a wider upgrade at the base ahead of the arrival of 1,200 extra personnel who will come across when two F-35 squadrons are stationed at the site from 2021.
Work includes revamping offices as well as improving security facilities for the US forces including a guard mount and day armoury.
Construction will start next month and is due to finish next summer.
Last November, the MoD awarded a £160m contract to a Kier VolkerFitzpatrick joint venture to get the base ready in time for the F-35s' arrival.
Work includes building a flight simulator facility, a maintenance unit, new hangars and storage facilities.
The base will become the first permanent site for American F-35s in Europe.