Main construction on EDF's Hinkley Point nuclear station is not now expected to start until mid-2015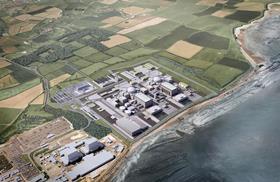 The main construction work on EDF's £10bn Hinkley Point nuclear power station is not now expected to start until mid-2015, some 18 months later than currently scheduled, Building understands.
The main £2bn programme of civils work on EDF's Hinkley Point C nuclear power plant, to be undertaken by Laing O'Rourke and Bouygues, is currently scheduled to begin in January 2014.
However, Building understands Dean and Dyball, a subsidiary of Balfour Beatty, which is set to build a crucial £50m temporary jetty for the project – one of the first packages to go onsite - has now been told to not to expect to start work on the jetty project until the end of the third quarter of 2014.
According to EDF's most recent phasing timetable, published in July 2012, the main civils work is not expected to start until 9 months after the construction of the temporary jetty.
That means the start date for the main civils work is now unlikely to be until around mid-2015, and Building understands that contractors on the project are now working to his delayed timetable.
The news of the delay to the construction programme comes amid reports that a long-awaited deal between the government and EDF over the price of electricity generated from the power plant has now been agreed, with an announcement possible this week.
That announcement, along with reports that the China General Nuclear Power Group has taken a significant stake in the project, is expected to pave the way for EDF to make its final investment decision to proceed with the project.
Meanwhile, Building understands construction staff numbers at the Hinkley Point site have now fallen to below 35, from a peak of around 140, after EDF made a second round of cuts in April, while work on the £100m earthworks contract, being undertaken by a joint venture between Kier and Bam Nuttall, has also been put on a go-slow.
Paul Sheffield, chief executive of Kier, said although the contract for the job was signed a year ago the firm "hadn't really started the work in earnest". "It's two years ago we first got notified that we were in the preferred position for [the job] so it is frustrating," he said.
"We've put the fence up around the site; we've got a site office; we've got people there - but we're not doing any particularly active work at the moment, mainly a lot of design and a lot of planning for the project."
A spokesman for EDF said: "We've always said that we would be clearer on timings once we reach a final investment decision and that is still the case."