Move comes as project looks to make up time after social distancing rules hit productivity
Hinkley Point C has revealed that it expects to hire more than 1,500 people as it pushes to complete the project in the wake of the pandemic.
According to EDF, the French energy giant behind the project, the scheme has fallen half a year behind schedule because of restrictions imposed by the pandemic.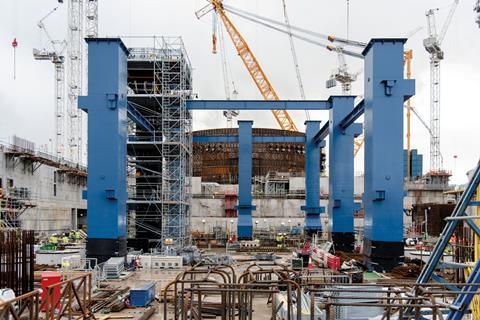 The job is now expected to cost up to £23bn, with Stuart Crooks, Hinkley Point C managing director, saying at the time that when the pandemic struck the team running the scheme had postponed some work to allow for social distancing on site.
It is now expected to complete in 2026.
But now EDF has said it plans to hire 1,700 people in the next 12 months as it races to complete the project.
The jobs forecast came in the latest report into the positive social and economic impact of the new nuclear power station, with roles being advertised for those construction, welding, electrical and equipment installation and wider support roles.
Crooks said: "As we come out of the pandemic, we hope to safely increase the numbers working on the project and create jobs just as they are needed most. Our big investment in local education and training means we are ready to help people find work and start new careers."
The Hinkley Point C Jobs Service is working with Somerset colleges and training providers to make the new roles as accessible as possible to local people.
Facilities like the new Welding Centre of Excellence and Construction Skills and Innovation Centre operated in partnership with Bridgwater and Taunton College, have been created to support training of future staff regardless of previous experience.
The report showed that spending with South-west based businesses has already hit £3.2bn, more than twice the initial target of £1.5bn set as the project began.
It also revealed that more than 750 apprentices have been trained already as the project closes in on a target of 1,000 and that 14,000 people have already been trained and assessed in facilities funded by Hinkley Point C.