Decision follows tunnel collapse at Glendoe scheme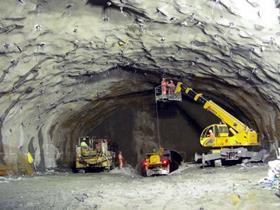 German firm Hochtief has been told to pay more than £100m to energy firm SSE Generation over the collapse of a tunnel at its Glendoe hydro scheme nearly nine years ago.
The scheme near Fort Augustus above Loch Ness in the Scottish Highlands was opened by the Queen in June 2009.
But just weeks later, Glendoe was shut down by a rock fall. The scheme wasn't fully reopened until August 2012 once replacement contractor Bam Nuttall completed remedial work.
SSE took legal action against Hochtief claiming £130m in damages but lost the case.
But the energy company has now won compensation its compensation claim on appeal after three senior judges ruled by two to one that that SSE should be awarded more than £107m over the cost of the recovery project along with a further £1m damages.
Martin Pibworth, wholesale director at SSE, said: "SSE welcomes the positive decision of the Court of Session.
"The hydro scheme had to be shut down for nearly three years whilst rectification works resulting from a defect, which existed prior to takeover of the scheme by SSE, were carried out."
Hochtief argued that it had completed the works in accordance with the contract and that SSE had assumed the risk of the collapse at takeover.