HOK's London head says negotiations 'go from crisis to crisis'
The head of US architect HOK's London office has said firms like his are being left in the lurch by the government's handling of Brexit.
Around a third of the 136 staff at the firm behind the Francis Crick Institute at King's Cross are from the EU but the managing principal of its London office, Dan Hajjar, said they still have no idea where they stand once the UK leaves the EU in less than six months' time.
Hajjar, who is from Canada and has been in the UK for four years, said: "[Brexit] has been handled terribly. It goes from internal crisis to external crisis. Everyone is walking on a floor of marbles.
"I probably know less [about Brexit] than I did a year ago. So many confusing messages are coming out."
HOK, which is headquarterd in St Louis, has brought in employment specialists to talk to its EU staff about Brexit and Hajjar said: "No one is going to be left high and dry."
The firm's London office in Fitzrovia currently carries out around 55% of its business in the UK with the remainder from the Middle East, Africa and India.
But Hajjar said the UK portion of work would have been higher if Brexit wasn't happening. "What we're finding is that a lot of the larger projects are not in the same numbers that they were four or five years ago. A lot of developers have said they have enough work in the pipeline for the next couple of years to ride out Brexit."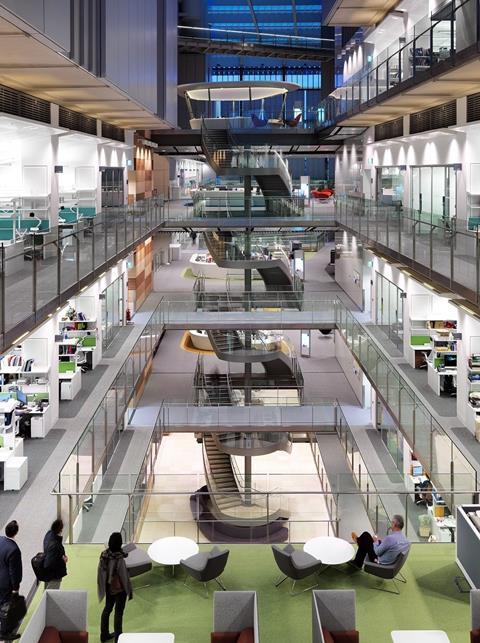 The firm is currently working on a research hub for Glasgow university which is being built by Multiplex and has also drawn up plans for a similar scheme in Cardiff which will be built by Bouygues.
Hajjar also said a number of football clubs had been in contact about looking to increase seating capacities at their grounds while the firm is working on the 12,500-seat Gateshead Arena.
HOK is also behind the 67-storey Spire tower in London's Docklands which was mothballed by its Chinese client Greenland earlier this year.
Piling work on the 900 flats scheme was carried out by Bachy but the scheme has been on hold for months. "We've been off that since February. I don't know why it's stopped but I think it will come back," Hajjar said.
He was speaking as the firm narrowed operating losses in the year to 29 December 2017 to £455,000 from £2.3m in 2016. Turnover was flat at £19.4m. He added that he was "optimistic" the firm would turn in an operating profit this year on the back of increased revenue.
Hajjar said HOK had cut back on the number of costly bids for schemes which in 2016 saw unsuccessful pitches for work at Great Ormond Street Hospital and at the planned Heathrow Airport expansion. He added HOK was still trying to sort out a problem job in the Middle East, believed to be a scheme in Doha where its projects include phase four of the $5.5bn Msheireb Downtown redevelopment of central Doha.