Demand for product outstripping supply, Frank Hanna tells Building
Listed brickwork firm Michelmersh has said a home improvements boom fuelled by office staff working from home is set to see the firm emulate 2019's numbers when it posted its best set of results since it formed in 1997.
Joint chief executive Frank Hanna told Building the firm's six plants were working flat out to meet demand that was last year disrupted by the covid-19 pandemic and which saw an entire month's worth of production wiped out because of the first lockdown last spring.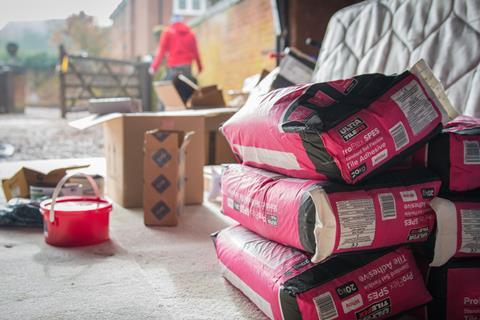 Michelmersh was forced to close its five UK factories, which include plants in Shropshire and Leicestershire, last April because of the pandemic, reopening them after introducing measures to make them covid secure which is seeing the firm spend £40,000 a month on spraying workstations to keep them clean.
Hanna said: "Because of covid, we lost 10 million bricks last year. Normally we do 125 million bricks a year."
Work is coming from traditional customers such as volume housebuilders but a DIY boom, fuelled by working from home office workers who now want to renovate where they live, is increasing pressure on demand.
"People are starting to make choices about where they spend their money and a lot are doing home improvements, nesting, which has surprised me."
The firm is also seeing more work from the infrastructure market while commercial jobs, stopped because of the pandemic, are now back up and running.
The UK brick industry normally makes around two billion bricks a year, supplemented by up to 500 million imported from Belgium, where it has a sixth factory, and the Netherlands.
But Hanna said he expected stocks to stay below 2019 levels for the remainder of this year. "People are playing catch-up. Imports dropped off and [industry] production came back on stream at various times which has caused disruption to the supply chain. It takes a long time to shut down a plant and get it back up and running again."
The firm is expected to put out a trading update ahead of its AGM in early June but Hanna said its trajectory this year was mirroring the numbers posted two years ago when it saw turnover up 15.5% to £53.5m and pre-tax profit climbing to £10.4m.
Last year turnover stayed flat but pre-tax profit slipped to £6.9m although the firm said it will hand shareholders around £2.5m in dividends this June.
Hanna said it has paid back the £550,000 it received from the government's Coronavirus Job Retention Scheme after being forced to furlough 265 staff for three weeks last spring.
He joined others, including Morgan Sindall chief executive John Morgan, who have said firms should pay back furlough money ahead of paying dividends. "It's inappropriate to pay dividends and not pay furlough money back," he said.
"It's very important to be a good corporate citizen. We would have paid it back anyway but creating cash and sitting on furlough money as well is not in the spirit of which [the scheme] was intended to be used."
The firm, which is headquartered in Haywards Heath, West Sussex, is also looking at introducing flexible working for its office-based staff once more restrictions in the latest lockdown are eased.