Client meets with supply chain to set out delivery for Wylfa Newydd power plant in Wales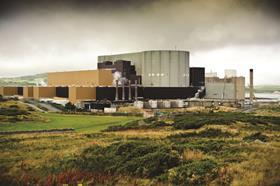 Horizon Nuclear Power has begun engaging with hundreds of potential suppliers for its £14bn Wylfa Newydd nuclear power plant in Anglesey, Wales.
The client said it has met with its supply chain today to discuss opportunities available on the project during construction and when operational, with 250 firms attending the event.
Representatives from the client and its owner explained their approach to procurement, and discussed future scopes of work and their expectations for quality, codes and standards.
Speakers from the UK government, Welsh government and the Isle of Anglesey County Council also attended to talk about support available for firms.
Horizon's site development director, Charlie Tasker, told Building in May that the client will split procurement of the contracting work into two main areas.
It will procure one engineering, procurement and construction contract for the large-scale, nuclear site-focused work, and a further contract covering all other aspects of the project, in particular off-site infrastructure on Anglesey, such as workers' accommodation, park-and-ride facilities, a logistics centre and road improvements.
Horizon's commercial director, Tim Eaton, said on the event today: "We've made fantastic progress on the project and we've set out today how businesses can help us continue to move forward successfully.
"This kind of opportunity only comes along once in a generation and we want businesses to be ready to make the most of it."
Executive officer of Hitachi Europe's nuclear power projects unit, Shunsuke Utena, said: "Alongside Horizon, today's event has given us the opportunity to explain more about our approach and expectations as we continue building our relationships with the UK supply chain.
"Our priority is to help Welsh and British firms understand where opportunities could exist and how they can prepare to take advantage of them in the years to come."