More than 197,000 homes underway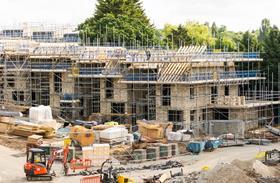 Housing starts and completions are at their highest level in 10 years, according to latest government figures.
The Ministry of Housing, Communities and Local Government has revealed 197,170 new homes had been started, while 178,450 had been finished across the UK in the 2016-17 year.
The previous high was in 2007-08 when there was 219,090 starts and 215,860 completions. Figures show the latest completion figures are also on par with 2008-09 when 178,560 homes were finished.
Housing minister Dominic Raab said: "It's good to see housing starts and completions at their highest level since 2007 and planning permissions up 8% on last year.
"But we are restless to do more. We're reforming planning rules, releasing government land and investing £5bn in infrastructure to build the homes Britain needs and make them more affordable for working people in this country."
In England, where work got underway on 163,000 homes, the private sector was responsible for 83% of all starts. Housing associations started work on 25,550 homes, while local authorities began work on 1,730 properties.
The private sector was responsible for 13,250 of Scotland's 19,570 new starts, and 6,730 of the 7,730 new starts in Northern Ireland.
In Northern Ireland, local authorities started work on fewer than five new home, while in Scotland they launched 1,370.
Private sector providers were also responsible for a majority of completions across the UK. Of the 178,450 homes where work wrapped up 145,310 or 83% of them were produced by the private sector.
2016-17 new starts
| Sector | UK | England | Wales | Scotland | Northern Ireland |
| --- | --- | --- | --- | --- | --- |
| Total | 197,170 | 163,000 | 6,870 | 19,570 | 7,730 |
| Private sector | ** | 135,730 | ** | 13,250 | 6,730 |
| Housing Associations | ** | 25,550 | ** | 4,950 | 1,000 |
| Local authorities | ** | 1,730 | ** | 1,370 | – |
2016-17 completions
| Sector | UK | England | Wales | Scotland | Northern Ireland |
| --- | --- | --- | --- | --- | --- |
| Total | 178,450 | 147,930 | 6,830 | 17,220 | 6,470 |
| Private sector | 145,310 | 121,000 | 5,590 | 13,350 | 5,360 |
| Housing Associations | 30,180 | 25,090 | 1,240 | 2,750 | 1,100 |
| Local authorities | 2,960 | 1,840 | – | 1,120 | – |
Source: Ministry of Housing, Communities and Local Government
– Less than 5 dwellings
** Not available
Totals may not equal the sum of component parts due to rounding to the nearest 10