Building both in tandem will hand region £100bn boost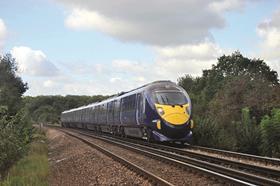 Delivering Northern Powerhouse Rail (NPR) and HS2 at the same time would boost the economic benefit of HS2 to the North by £100bn, according to leaders from within the region.
The government has today been told to carry out the upgrades in tandem so that the UK has a high-speed rail network linking North to South by the early 2030s.
The Northern Powerhouse Partnership (NPP), a thinktank set up by former chancellor George Osborne, wants the NPR, which aims to improve east-west connections across the North of England, to be delivered alongside phase 2b of HS2 in 2032/33. Phase 2b will connect Manchester and Leeds to the South.
NPR aims to reduce journey times between Manchester and Bradford to 20 minutes and bring 10 million people within a two-hour train trip of Manchester Airport.
NPP vice-chair Lord Jim O'Neill said: "Getting Northern Powerhouse Rail delivered to the recommendations of Transport for the North is crucial for the success of the Northern Powerhouse.
"Without connecting as quickly and efficiently as possible the many closely located towns and cities of the Northern Powerhouse, it will not be able to create the agglomeration benefits that would transform the economy of the UK, never mind just the North.
"Indeed by doing it, the financial investment justification for central government would vastly exceed the usual cautious value for money criteria, and be one of the most exciting things for post Brexit Britain, notably for an area that has many disillusioned voters."
Andy Burnham, mayor of Greater Manchester, said the move was critical in closing the gap between the north and south of the country.
He said: "Westminster has failed the North and given us a transport system which is simply not fit for the future. People here are no longer prepared to put up with the packed out roads and clapped out trains that we've endured for decades.
"We need the Government to deliver East to West Northern Powerhouse Rail alongside HS2, with a revamped Manchester Piccadilly station at its heart."
It is hoped that cutting journey times to cities and towns in the Northern Powerhouse would create thousands of jobs, increasing productivity and attracting significant overseas investment. Establishing an NPR station in Liverpool, alongside HS2, could create 20,000 new jobs and generate £703m for the economy.
NPP is also calling for a redesign for Manchester Piccadilly to create an underground station to allow high-speed trains to pass through without delay.
Work will also include a new rail line linking Manchester and Leeds, with an upgraded line between Leeds and Newcastle and connections to the HS2 high speed line running to Birmingham and London.