Tory MP tells select committee local sherrifs needed to hold building firms to account
Campaigners have called for the appointment of local sheriffs to keep a grip on HS2 contractors after works for the £100bn railway were accused of creating "complete chaos" in rural communities.
Conservative MP for Buckingham Greg Smith, through whose constituency HS2 runs, told a parliamentary select committee that he wanted to see a localised sheriff in each area of the railway's route from London to Crewe who "actually has teeth" to hold the project's contractors to account.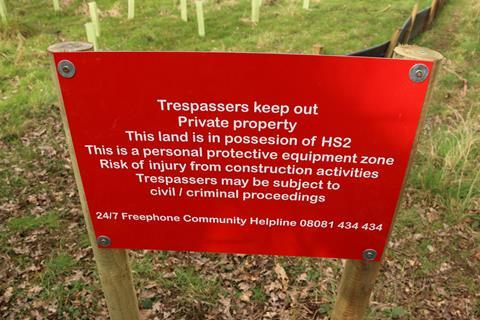 The comments came during a grilling of HS2's community engagement processes on Wednesday by the cross-party transport committee, of which Smith is a member, during which the railway's contractors were accused by one council chairman of overseeing a "catalogue of errors".
Calvert Green parish council chairman Phil Gaskin, who lives in an area heavily affected by the works, told the committee that his Buckinghamshire community had seen key roads closed "at very late notice or no notice in some cases", impacting local businesses and stopping school buses from getting pupils to school on time, sometimes for months at a time.
He told MPs: "We've seen massive disruption to our communities, local businesses, even our parish councils. There's an impact on health and wellbeing. I can't really stress enough the overwhelming impact to our area."
He added that contractors had made "deliberate attempts to hide significant changes from the community" and had in some cases only offered justification for work affecting locals after it had been carried out.
Gaskin said: "Please don't look at me and who I represent as whinging nimbies because we're all pretty accepting of HS2."
He said that in one instance he had come home from work to find his front lawn spray painted with blue lines with wooden stakes driven into it, while two weeks later a digger had turned up at his property intending to dig up the grass. "Nobody communicated with me, I knew nothing about it. At the time HS2 knew nothing about it," he said.
And when locals had tried to request more details of what works would be undertaken, Gaskin said they were told the information could not be disclosed because of the risk of "potential espionage".
Gaskin's concerns were seconded by lead policy advocate for infrastructure at The Woodland Trust, Luci Ryan, who said she had to lodge Freedom of Information requests to get answers to her questions after witnessing breaches of HS2's ecology assurances.
Ryan told the committee she wanted to see "an independent body of some sort where you can say 'we think this is happening or not happening' and just a feel that it wasn't just disappearing into a big black hole with people saying they'll get back to you".
She said there was a "massive disconnect" between HS2's understanding of how works on the project are being undertaken and what is happening on the ground, adding: "I've got contractors in the north area who are doing works how I would expect them to do but then the same type of works in the south area are not being done in the same way, and when we ask questions about it, all I get told is 'we don't man-mark our contractors on the ground, contractors are given a contract, it's up to them how they discharge that contract, all they've got to do is discharge that within the law'. But HS2 don't seem to be aware of what's actually happening."
HS2 Ltd's independent resident's commissioner Deborah Fazan, who was also answering questions in the session, admitted the project's community engagement was "not perfect in every area," adding: "Not every contractor is getting it right all of the time and I think there's a lot of work to be done in that respect to make sure every single contractor is consistent in its approach to every single community and every individual."
She said that the company had made "significant progress" in recent years to improve transparency, including with an online portal allowing people to see the process of compulsory purchases.
The Oakervee Review into the scheme, published in February last year shortly before the railway was given the green light by the government, said the project "need[ed] to significantly improve how it treats individuals and communities affected by HS2 especially as it moves into the main construction phase".
Prime minister Boris Johnson officially launched the start of the project's main construction phase in September last year, with the first leg of the line from London to Birmingham not due to be completed before 2028.
The four main civils contractors working on the railway are SCS Railways, a joint venture between Skanska, Costain and Strabag, Align JV, a joint venture between Bouygues, Sir Robert McAlpine and Volker Fitzpatrick, EKFB, a joint venture between Eiffage, Kier, Bam and Ferrovial, and BBV JV, a joint venture between Balfour Beatty and Vinci.