British Land and Argent potential bidders as high-speed client prepares to procure development partner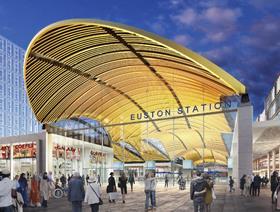 HS2 Ltd will start procurement in the new year for a development partner at Euston station.
The high-speed rail client is looking for a developer to manage over-site development at the site. The role will be separate from the main HS2 Euston station job.
It comes after architect Studio Egret West won a contract from Camden council and the Greater London Authority to come up with a masterplan for development in and around the new HS2 station at Euston.
A market source who works with HS2 Ltd told Building the organisation was looking to kick-start development on top of the building to raise some extra money for the £55.7bn project.
The source said: "HS2 needs money urgently. A very good way of doing that is over-site development."
They added that HS2 Ltd could potentially raise around £1bn from over-site development at Euston.
Procurement will start in the first quarter of next year with a development partner expected to be in place by the end of the year.
Potential bidders could include developers such as British Land or Argent, which have previously expressed interest in being involved at Euston.
The move comes two years after HS2 confirmed it was scrapping plans to select a developer to transform Euston station, after the scheme became financially unviable.
Speaking to Building, Farrells infrastructure partner Neil Bennett, whose firm is working on designs for the HS2 Euston station, said it is unclear whether the over-site development will include the Network Rail owned station or just the HS2 section. The HS2 section will consist of up to 11 platforms to the west of the existing Euston station.
Bennett said: "We do need a co-ordinated plan for Euston, one that is properly designated."
He added: "It will be a fairly long process finding a development partner. The process of agreeing what the development actually is will be quite long, which is why it will take around a year to get the development team in place."