Over 450 further employees to be made redundant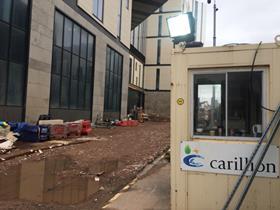 The Official Receiver has confirmed that a further 452 Carillion workers will be made redundant.
This comes on top of the 377 staff that were made redundant last Friday.
A spokesperson for the Official Receiver said: "As part of the ongoing liquidation of the Carillion group, we have reviewed additional public and private sector contracts, as well as core divisions of the business.
"Unfortunately, 452 posts are being made redundant. They cover a variety of roles connected with private and public contracts across different parts of the country, as well as back-office functions."
But a further 100 jobs linked to public sector contracts have been saved.
The Official Receiver added: "Most staff will be transferring on existing or similar terms, something I will continue to facilitate wherever possible as we work to find new providers for Carillion's remaining contracts.
"Our efforts are focused on the smooth transfer of Carillion's contracts to new providers and we will continue to keep Carillion's workforce updated as these arrangements are finalised."
Last Friday it was confirmed that 900 employees of the failed contractor had been transferred to other firms.
Carillion employed more than 40,000 staff globally around half of whom worked in the UK. Its head office in Wolverhampton employed around 400 staff.
A Facebook support group for Carillion staff has now attracted more than 2,000 members.
Called Carillion Colleagues Support – Employee led, the group was created by staff the day after the firm collapsed on 15 January.
The chief executive of a specialist construction recruitment app said the number of ex-Carillion employees using the platform was "growing by the day", with more than 500 former employees already using the The Square Construction.
Matt Rantell, who is the founder of The Square, said: "When something like this happens, it's the employees and subcontracted teams that are immediately impacted.
"That vulnerability and fear of not being able to pays bills is the first thing that the industry needs to address and we're able to help in that capacity and provide a platform for construction professionals and apprentices to find relevant job opportunities quickly."