Settlements of up to £200,000 reached between victims and major contractors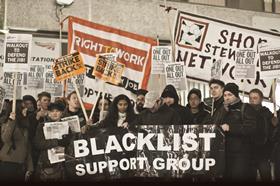 Less than half of the 650 blacklisting vicitims taking major contractors to court for millions of pounds in compensation have settled out-of-court, ahead of the full hearing scheduled for May.
Around 260 are understood to have reached settlements with the contractors - which include Balfour Beatty, Laing O'Rourke and Sir Robert McAlpine.
Union Ucatt this week said 71 workers it is representing in the High Court action settled for total compensation worth £5.6m, averaging at £80,000 per worker. Settlements are believed to have reached as high as £200,000 in some cases.
Dave Smith, secretary of victims' group the Blacklist Support Group, said he considered some of the settlements achieved a "victory" after seven years of campaigning, but he stressed he expected hundreds of workers to reject settlements in favour of taking the case to court.
He said: "Hardly any of our people have accepted settlements. Our strategy is to get them in court - we want these contractors to give evidence under oath in the High Court."
More than 3,000 workers were named on the blacklist and consequently prevented from working in construction until TCA was raided and closed in 2009.
A spokesperson for eight of the contractors, known as the Macfarlanes Defendants, which also includeCarillion, Costain, Kier, Skanska UK and Vinci, said: "These eight companies can confirm that Part 36 offers have been issued to the majority of the claimants in the legal action.
"We have made these offers in an attempt to settle as many claims out of court as possible in order to save further unnecessary legal costs and to speed up the payments to affected workers."
John McDonnell, Labour's shadow chancellor, commented: "The blacklisting of workers in the construction industry who raised concerns about safety is a national scandal. Those companies that caused untold suffering to thousands of honest hard working families are the unacceptable face of capitalism.
"Labour will do everything in our power to ensure that taxpayers money is only given to companies with the highest ethical standards by ensuring that public contracts are not awarded to companies involved in serious human rights violations".