The legal battle against major construction firms for using an employee blacklist has finally been settled out of court to the tune of millions. But for some victims and supporters, the matter is very far from over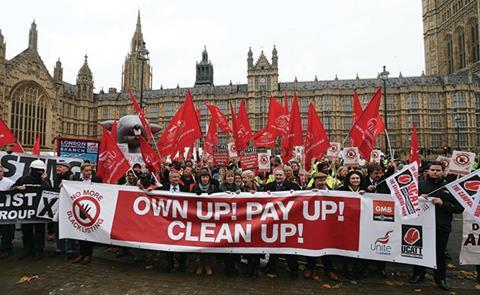 For Roy Bentham, going on strike was costly. After being elected as safety rep on a power station project in North Wales, the joiner was thrown off the job following a strike.
"I've only been on strike once in my life," he says, adding that the file prepared on him by the Consulting Association, the shadowy organisation that maintained for nearly two decades the now notorious blacklist of workers deemed as troublemakers due to their political views or union activities (see box), consisted of just a single page.
However, over the subsequent 14 years, the information on that page led to Bentham suffering long spells of unemployment. Bentham believes he got off relatively lightly, though, compared with some of his fellow blacklisted workers. "It affected me but other people more. Marriages have split up and people have taken their lives."
After many years of at-best intermittent employment, Bentham has retrained as a site manager. These days, he mainly works for the kind of smaller contractors that steered clear of the Consulting Association and its blacklist.
The companies were [blacklisting] until 2009 and didn't admit it was wrong until 2015 so there is some scepticism

Spencer Wood, OH Parsons
But stories like Bentham's explain why hundreds of construction workers have spent much of the last decade fighting to secure compensation. That battle reached a conclusion in the High Court last month when eight of the UK's biggest construction firms (see box overleaf) agreed to pay around £75m in compensation to 771 workers. The workers themselves received about two-thirds of the pay-out, with the rest going on legal fees.
The size of the payment came to light in court after Unite, the last of the three unions engaged in the dispute, reached a settlement with the employers worth more than £10m, on behalf of 256 of its members.
Following the conclusion of Unite's outstanding action, Ucatt revealed that it had secured £8.9m in April for the 156 workers that it had represented and the GMB union £5.4m for 116 members. In addition, the solicitors Guney, Clark & Ryan netted £6.6m for 167 workers who had opted to seek compensation via the Blacklist Support Group rather than their unions.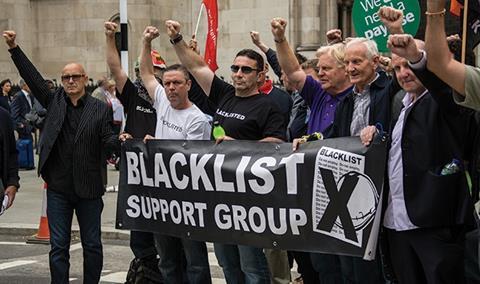 "It's a massive victory, no question" says Dave Smith, who runs the Blacklist Support Group.
"When my file landed on the doorstep from the Information Commissioner's Office and we went to the companies, they denied everything and refused to pay us a penny. They literally fought every single way they could – so to get a multimillion-pound compensation settlement is a massive victory."
Maria Ludkin, GMB national officer for legal and corporate affairs, says her members are happy with the pay-outs they received. "Speaking for our membership, they were made very generous offers and they all felt honour was satisfied."
'Not over by a long chalk'
However, Howard Beckett, director of legal services at Unite, says his union didn't settle until last because it was unhappy with agreeing to accept that the companies' apology was genuine.
"Our settlement does not accept that the apologies are genuine. We refuse to accept the line that this is the end of the matter," he says, adding that the blacklist remains "very much a live issue". Smith agrees that the dispute is "not over by a long chalk".
Unite's reluctance to accept the contractors' apology reflects how the victory is a bittersweet one for many of the workers involved. While the industry has dished out tens of millions in compensation, many anti-blacklisting campaigners are furious that nobody has carried the can for the now disgraced pre-employment vetting practices.
They offered me £35,000 but if they'd offered me £350,000, I would still have said I wanted to see the documents

Dave Smith, Blacklist Support Group
"We don't think it's over because the guilty parties haven't really been called to account," says Beckett, whose union is calling for a public inquiry into the blacklisting saga.
"If my members are half an hour late for work, they will face disciplinary action. These people involved themselves in unlawful acts that cost tens of millions of pounds. We should maintain exactly the same rules."
"Until these people get called to account, we will continue to hound them. They were effectively taking food off my kids' table. We take it very personal," says Smith.
"For this to be cleaned up properly, we need to know what's in those files," says Bentham, who has refused to accept his compensation offer in order to pursue the case to the Supreme Court.
As a Hillsborough survivor, Bentham has been spurred on to continue fighting by the successful conclusion of the public inquiry into the 1989 football stadium disaster.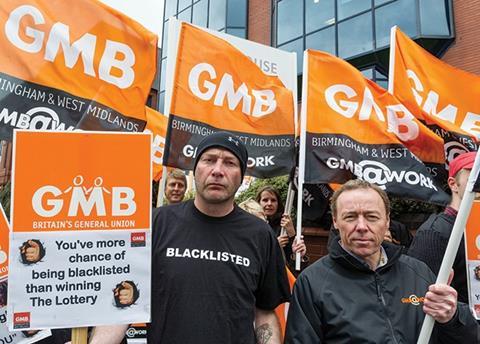 The post-Hillsborough climate has heightened the possibility of a public inquiry into the blacklisting dispute, Smith believes. "Seven years ago when we called for [a public inquiry] people looked at us like we were head bangers," he says. "There is a slightly different mood in the air at the moment."
A spokeswoman for the defendant companies, who were represented by solicitor Macfarlanes, says they would "co-operate fully" with a public inquiry although she questions the point of the exercise given the investigation already carried out into the affair by the House of Commons' Scottish Affairs Committee. Four other accused firms – Cleveland Bridge, Amec, Bam and Lendlease – are also all believed to have settled their cases.
But Spencer Wood, senior partner at Ucatt's solicitor OH Parsons, believes that an open inquiry would be good news for the industry. "Quite frankly, the industry could probably do with having an inquiry. If they're as squeaky clean as they claim, it will draw a line under the whole affair."
Macfarlanes defendants
Balfour Beatty
Carillion
Costain
Kier
Laing O'Rourke
Sir Robert McAlpine
Skanska UK
Vinci
Never again?
Campaigners' desire for a public inquiry is underpinned by a determination to prevent blacklisting from happening again.
Allegations about blacklisting on Crossrail, previously reported in Building, have fuelled concerns that the practice hasn't entirely disappeared from the UK's major construction sites.
Wood believes that companies are continuing to maintain lists of suspicious workers, often using information originally obtained from the Consulting Association that they didn't want to pay twice for.
"Even now we are getting reports of people, when getting jobs, being told that their names have to be checked against a list. We need to get to the point where they are not checking people on a list but deciding on merit if they are good enough to work on a particular job and that's still not happening."
And while many of the companies involved in the action have new management teams, Wood wonders how deeply rooted the changes are.
"They were doing it until 2009 and didn't admit it was wrong until 2015 so there is some scepticism. When you've had such injustice and bad behaviour, frankly they need to go the other way and show particularly good behaviour."
Even now we are getting reports of people, when getting jobs, being told that their names have to be checked against a list

Spencer Wood, OH Parsons
The Macfarlanes defendants' spokeswoman insists that pre-employment vetting has "no place in the modern construction industry".
Nevertheless, the Labour Party has openly backed a public inquiry into the blacklist. Both Jeremy Corbyn, the party leader, and John McDonnell, the shadow chancellor, have been closely involved with the blacklist campaign since its establishment in 2009.
However, with the next election not due to take place until 2020, campaigners are understandably exploring other options.
This includes hitting the blacklist companies where it hurts: in the pocket. A host of local authorities have passed motions stating that they will refuse to procure from companies that have been responsible for blacklisting activities.
The GMB's Ludkin is now putting pressure on councils to implement such motions by changing their procurement practices. "We'll be writing to all local authorities who have decided not to use blacklisting companies on their procurement projects," she says, adding that the union is drawing up its own recommended "white list" of companies that were not involved with blacklisting.
To bolster its campaign for councils to "blacklist the blacklisters", Ludkin says the GMB is sending them the agreed High Court statement, in which the companies admitted that they had vetted staff.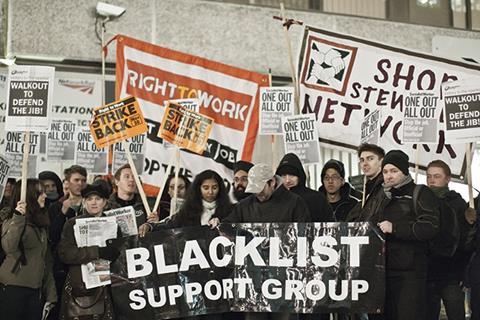 And the campaigners haven't exhausted all their legal avenues yet. Unite is assembling evidence to mount a case against the Consulting Association's backers for perverting the course of justice. The allegation centres on a statement by Ian Kerr, the deceased former director, that he had burnt paperwork at his brother's farm following the 2009 raid of his organisation by the Information Commissioner's Office (ICO).
Beckett says there is a mismatch between the 3,213 workers on the blacklist and the approximately 1,800 cards that have been retrieved, sparking the suspicion that many have disappeared. He wants the courts to examine allegations, refuted by the Macfarlanes defendants, that Kerr was instructed to destroy the paperwork that the ICO had overlooked when it conducted the raid.
Beckett also wants to know what happened to the minutes that Kerr said he had sent out following every meeting of the association's board.
Meanwhile the wider public inquiry into the infiltration of radical political groups by an undercover London Metropolitan police branch looks set to shed further light on the murky world of blacklisting. Peter Francis, one of the undercoverofficers, has revealed that he supplied information on construction activists.
Beckett is convinced that some of the information on blacklisted workers' cards could not have been supplied by construction companies themselves but would have originated from the police or the security services.
And Bentham is refusing to give up. "I'm not doing this just for me, I'm doing this for the lads who passed away. I made a promise to a good friend, Michael Abbot, who had files going back to 1964, and passed away three months ago. He said: 'Get justice for me'. It's never been about money.
"They offered me £35,000 but even if they'd offered me £350,000, I would still have said I wanted to see the documents."
One thing looks certain: the blacklist saga looks set to run and run.
Blacklist: as it happened
1993 Consulting Association established by construction companies following winding up of the Economic League, a similar organisation for monitoring potential employees for trade union and political activities
February 2009 The Information Commissioner's Office raids the Consulting Association's office in Droitwich, seizing documents and launching an investigation into the organisation's data collection
July 2009 Consulting Association manager Ian Kerr fined £5,000 for failing to register as a data controller
December 2012 Kerr dies
October 2013 Eight companies involved in the blacklist – Balfour Beatty, Carillion, Costain, Kier, Laing O'Rourke, Sir Robert McAlpine, Skanska UK and Vinci – apologise for their actions, and agree to pay compensation to affected workers
July 2014 Construction Workers Compensation Scheme established by the eight companies but blacklisted workers continue court action
March 2015 House of Commons Scottish Affairs select committee publishes its report into construction site blacklisting, recommending that the new parliament should conduct a full public inquiry into the affair
October 2015 Macfarlanes defendant firms admit liability and apologise for blacklisting
February 2016 Ucatt reaches settlement for 71 of its members
April 2016 GMB and Blacklist Support Group settle together with Ucatt for its remaining members
May 2016 Unite settles its outstanding claim on behalf of its members