UK needs more than three runways at Heathrow or a hub airport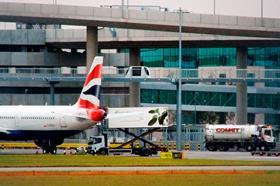 The Institution of Civil Engineers (ICE) has urged the review set up by the government into aviation capacity to look beyond the "heavily politicised" debate on whether or not to build a third runway at Heathrow.
In its response to the government's draft aviation consultation, the ICE says the real choice is between expanding "beyond three runways" at Heathrow and building a new hub airport in the south east of England.
It urges the Davies Commission, established by the government to review aviation capacit, to make a clear decision on the future direction of UK aviation policy by the time it publishes its interim report in 2013, rather than waiting for the publication of its full report after the 2015 general election.
Alex Lake, from ICE's aviation expert panel, said: "Looking to the longer term, to maintain its global economic competitiveness, the UK needs a hub with more than three runways and rapid access to Central London.
"If we decide Heathrow can't or shouldn't be expanded to this size we will need to develop a new hub facility elsewhere in South East England. This will naturally take time, so the Davies Commission must press on with evaluating all available long term options now.
"This however, does not remove the need for action over the next 5-10 years to keep the UK in the game in the short term. The Commission must therefore simultaneously conduct a thorough review of all the short term options."
The call comes as the London Assembly this week unanimously reaffirmed its opposition to any increase in flights at Heathrow and called on the government to bring forward the publication of the final report on UK airport capacity.

A motion, agreed by Assembly Members, said Heathrow airport and aviation policy was important to the capital and called on the government to ensure the Davie Commission published its final report before the 2015 General Election.