Concerns raised over any changes proposed by Labour party that could lead to increased costs for the industry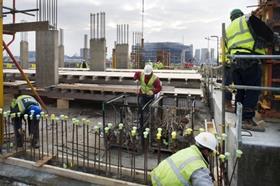 A future Labour government should be cautious in trying to tackle bogus self-employment in construction, industry bodies have said.
The Labour Party announced a review of the practice last September with shadow chief secretary to the Treasury Rachel Reeves writing to industry bodies for their views last December. Reeves called bogus self-employment - wrongly treating workers who behave as full-time employees as self-employed - a "blight for many workers and beneficial to those intent on avoiding tax".
But in a letter responding to Reeves, director of the UK Contractors Group Stephen Ratcliffe has warned that any legislative changes would lead to "increased business costs" which could not be absorbed by the industry, given its margins. Ratcliffe said a "more effective" tax scheme could be devised to drive out bogus self-employment.
But he added: "Any changes are likely to put pressure on government policies - for example, financing the current public sector construction pipeline within reduced resources and reducing the public sector cost of construction by 20% in the lifetime of this parliament."
The Federation of Master Builders also expressed fears over the costs of meeting new employment or tax laws.