UK Contractor's Group launches Creating Britain's Future campaign in North-west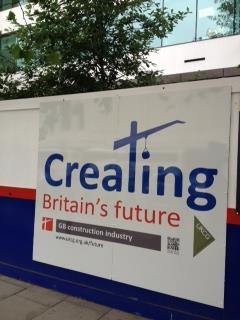 Local decision makers and senior political figures met with members of the construction industry in Manchester today to discuss the urgent need for investment in the industry as a means of encouraging economic growth and creating jobs.
The meeting came as the UK Contractor's Group launched its Creating Britain's Future campaign in Manchester and the North West.
A host of key industry bodies have united to support the UKCG Creating Britain's Future campaign, launched nationally last summer.
The campaign underlines how investment in construction should be used to return Britain to economic growth, highlighting the fact that every £1 invested in construction generates £2.84 of GDP, as well as promoting employment, boosting skills and improving the UK's long-term competitiveness.
UKCG said construction's contribution to the North-west economy in the first three quarters of last year was £8bn, with the sector employing over 200,000 people in Manchester and the North-west, representing over 6% of the local work force.
However, the difficult economic environment has had a damaging effect on the sector: new public and private sector work declined 17% in 2012 compared to 2011, and planning approvals last year in Manchester were down 28% on the prior year, UKCG said.
Construction output in the North-west is expected to fall by an annual average of 0.9% between 2012 and 2016.
UKCG said that without essential investment, these declines would continue, putting jobs at risk and threatening the growth of the local economy.
Paul Sheffield, Kier chief executive, said: "Working together to drive forward local construction activity is becoming ever more important as we continue to face economic challenges, and it is great to see the work Manchester City Council is doing to support infrastructure investment.
"Construction is essential to maintain the city's competitiveness and is creating much needed employment in Manchester and the North West. However, there is more that can be done: the industry needs to work closely with local political leaders and central government to ensure that the value infrastructure brings to the region, and the wider country, is understood.
"Key to supporting our industry is the ability to unlock new capital to support projects by making use of surplus land and pension fund assets, and delivering value for money for tax payers through the efficient use of resources".
Stephen Ratcliffe, UKCG director, said: "The significance of the construction industry to the national and local economy should not be underestimated; every £1 invested in the sector generates £2.84 in economic activity, and 92p of every £1 spent on construction in the North West is retained within the region.
"Support for the Creating Britain's Future campaign can make a real difference in helping to stimulate local growth and creating jobs."