Housebuilders want chancellor to rethink decision to finish current scheme next March
Housebuilders have called for more action to give certainty to the future of the government's Help to Buy scheme.
Chancellor Rishi Sunak yesterday used his summer economic statement to announce a nine-month pause in stamp duty on all housing sales under £500,000.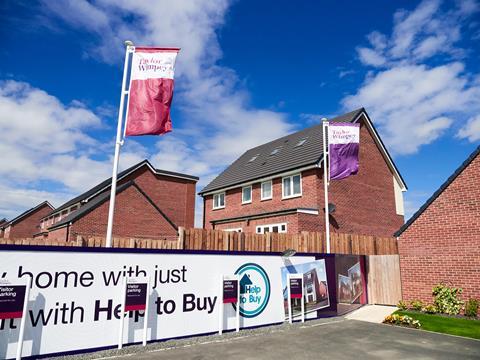 But some said the speech was a missed opportunity to announce an extension to the government's Help to Buy scheme, which supports buyers of new homes with a 20% deposit in the form of an equity loan.
Help to Buy is currently used in around half of all sales at several major housebuilders and has supported sales of a quarter of a million homes in the last seven years.
But the existing scheme is due to end in March next year prior to a new, more limited scheme starting up. The stamp duty cut announced today is due to expire on the same day.
John Anderson, the former Kier Living boss who became chief executive of regional housebuilder Larkfleet Group earlier this month, said: "The increase to stamp duty relief will inject urgency into a fragile market, but I would urge the government to avoid a hard stop when the much-needed relief ends on 31 March. The government must act now to extend Help to Buy to avoid a double whammy effect in the spring of next year."
Redrow chief executive Matthew Pratt added: "The conclusion of the current [Help to Buy] scheme now coincides with the end of the stamp duty holiday and we think this needs to be carefully reconsidered to avoid a cliff-edge of support for customers."
Some questioned whether a stamp duty cut was necessary given the pent-up demand for homes since lockdown restrictions were eased.
This morning Persimmon said reservations on private sales in the six weeks after it reopened sales offices in the middle of May was up 30% on the same period last year.
Jan Crosby, UK head of infrastructure, building and construction at KPMG, said: "The stamp duty cut may not have been needed. More important is providing longer term clarity on Help to Buy."
Earlier this week, the Home Builders' Federation estimated nearly 20,000 housing sales are potentially being put at risk by the ending of the current Help to Buy policy next March.
Because of the way the scheme is administered, homes purchased under the scheme have to be completed by 31 December 31, a deadline which housebuilders are concerned they now won't be able to meet for many buyers, because of the lockdown construction hiatus.
The new scheme being put in place from April will require all builders to re-register before taking part, and will greatly restrict the number of home-buyers who can benefit, restricting the scheme to first time buyers and lower value homes.