Mark Farmer says skills crisis is now affecting business performance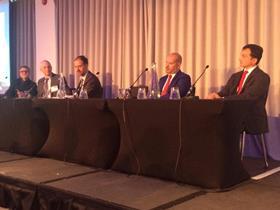 The construction industry is facing its greatest challenge ever, according to industry leaders.
Speaking at Building Live, chief executive of consultancy Cast, Mark Farmer, said the current state of the industry was precarious.
The author behind the Modernise or Die report, which was published last October and made a series of damning assessments about how the industry is failing on issues such as innovation, productivity levels and a shortage of workers, raised the issue of the skills shortage facing the industry.
"All the businesses that sit within the industry are in danger of deterioration," said Farmer.
"The thing that sits behind that assertion is the skills crisis that we are moving into. It's an unprecedented issue for the industry."
According to Farmer, the current skills shortage was structural not cyclical, and says there is real evidence that it is now affecting business performance
"Unfortunately there is a number of things happening in unison, especially around ageing and the risks we now have around Brexit.
"For some people, the skills crisis seems to be a bit on an inanimate issue that you hear about anecdotally. What's happened in the last 18 months is that it's moving onto a business performance issue.
"We don't have enough good people in the right places, doing the right things and that is an issue of business health and that's where it becomes an issue for businesses."
Farmer said the industry needed to move towards a manufacturing model and that there are a lot of practices and ways of thinking that could be transposed from the manufacturing sector to construction.
He added the procurement model needs to change, and with the current skills crisis there was clear evidence businesses are not able to take the risks they once could and the inability to control risk is now affecting the bottom line.
"The industry itself needs to decide what it wants to do and everyone in the industry has a role to play to take up the challenge," he said.