Payment holidays for PAYE and CIS among raft of proposals detailed in CLC letter to Boris Johnson
Construction leaders have drawn up an action plan it wants government to introduce immediately to keep critical cash flows up and running.
There are growing concerns that recent initiatives by the chancellor Rishi Sunak do not go far enough and will see firms collapse as cash flows dry up in the face of the lockdown introduced last week by Boris Johnson.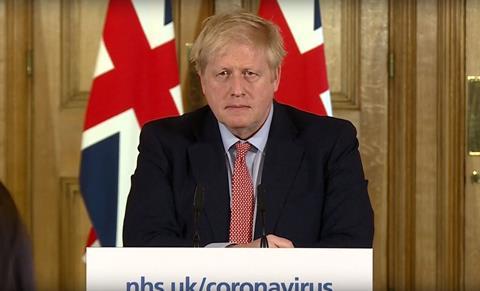 In a letter to the prime minister this morning, Construction Leadership Council co-chair Andy Mitchell warns more needs to be done to ensure cash flow is not choked off in the coming weeks.
He said: "As you will be aware, most construction businesses, from the largest public company to the smallest SME, are highly dependent on free cash flow, and I present below a range of further measures that I ask you to consider which would make a huge difference to many companies within the industry."
Among the actions Mitchell wants introduced are payment holidays on PAYE and CIS tax due this month and next.
Also on his wish list is deferring or cancelling outright levy payments due for the duration of the crisis, more pressure heaped on public sector clients to settle their bills quickly and the release of retentions held by public sector clients on jobs.
Mitchell admitted: "There will, no doubt, be some strong opinions over this, but were the government to direct all government bodies to release all retention monies held this would inject cash at all levels of the construction supply chain."
He also wants the £25,000 SME business continuity grants scheme extended to the construction sector and more support for directors of micro-businesses.
And Mitchell called for builders merchants to remain open, telling the prime minister: "There is the very real prospect of many of the essential works not being able to be done, or unduly delayed, by difficulties in securing products and materials."
He added: "The construction industry also needs clear support and recognition from the government for the essential work that it is doing and the role it is playing in supporting public services and keeping the economy functioning."
Other signatories to this morning's letter include the Civil Engineering Contractors association, Build UK and the Construction Products Association.