Areas to be addressed include mental health and public safety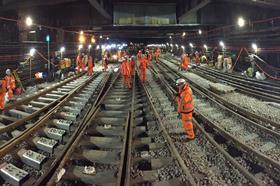 Leaders from across UK infrastructure are joining forces to tackle the causes of illness and injury in the sector.
The initiative has been driven by the Infrastructure Client Group (ICG), which includes EDF Energy, Environment Agency, Heathrow, Highways England, HS2, National Grid, Sellafield, Tideway and Transport for London.
The group has committed to tackle seven significant areas of risk including mental health, public safety and heavy goods vehicles operations.
By April 2020, the group is looking to develop a set of actions for each of these seven risk areas, with the aim of eliminating the illness and injury caused by the risks by 2025.
The plan of action will include standardised measures to assess current performance and to demonstrate improvement over time.
Other clients and suppliers are invited to sign up through the Civil Engineering Contractors Association, which is supporting the project.
Seven areas of risk to be tackled:
People and mobile plant
Mental health
Striking buried services
Lifting operations
Heavy goods vehicles operations
Hand-arm vibration related disease
Public safety