MPs question truth of evidence heard from Balfour Beatty, Sir Robert McAlpine and Skanska
The committee of MPs investigating construction industry blacklisting will consider whether the firms involved should be barred from bidding for public sector work, after publishing a damning report this week.
The interim report of the Scottish Affairs select committee's inquiry into blacklisting, published on Tuesday (16 April), questioned the evidence it heard under oath from representatives of three of the major contractors involved - Balfour Beatty, Sir Robert McAlpine and Skanska.
The report said the committee intends to continue with its inquiry, calling other firms to give evidence and examining areas including whether blacklisting is continuing, what level of compensation should be provided to victims, what punishment should be imposed on firms involved - including a possible bar to public sector contracts - and whether changes to the law are still required (see box).
The report said the committee was "unconvinced" that Balfour Beatty regretted its involvement with The Consulting Association (TCA), the blacklisting firm exposed and closed down in 2009.
It also said it was concerned by the failure of firms including Balfour Beatty and Skanska "to hold any individual to account" for wrongdoing and said it was not persuaded by Sir Robert McAlpine director Cullum McAlpine's claim that he had a "hands off" role as the founding chairman of TCA.
It also criticised the "evasive wordplay" of the argument made by witnesses, including McAlpine, that because not everyone on TCA's database was refused employment, the files did not constitute a blacklist.
The report follows evidence given to the committee in recent months by a number of witnesses including Cullum McAlpine, Balfour Beatty UK Construction Services chief executive Mike Peasland and Harvey Francis, executive vice president of human resources at Skanska. The report said that the committee was "far from certain that all of our witnesses have told us 'the truth, the whole truth and nothing but the truth', despite many of them being under oath".
Committee chairman Ian Davidson MP, said he was "appalled" by what the committee had heard. "TCA was an organised conspiracy by big construction firms, to discriminate against workers who raised legitimate grievances over health and safety and other industrial issues," he said.
A Balfour Beatty spokesperson said the firm had expressed its "genuine regret" over its use of TCA and had taken action "to ensure it does not happen again".
A spokesperson for Skanska said it welcomed the committee's report and said it had made "fundamental changes" to its working practices and culture since 2009.
A spokesperson for Sir Robert McAlpine said it had "never operated a blacklist," adding that it had "always been wholly committed to maintaining good relationships with our workforce and to responsible trade unionism".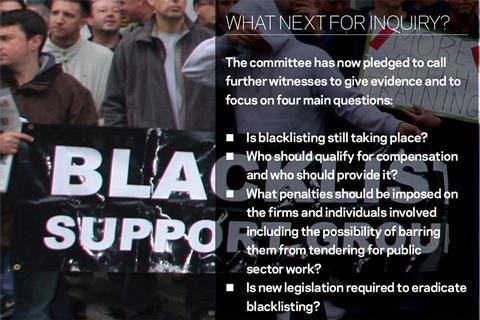 Reactions to the select committee's report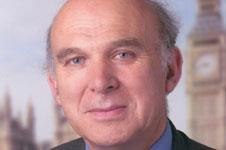 Vince Cable, business secretary:
"Blacklisting is an appalling and illegal practice. We will look carefully at the committee's final recommendations […] and if there is new evidence that blacklisting is continuing, I will ask the appropriate authorities to carry out a full and thorough investigation."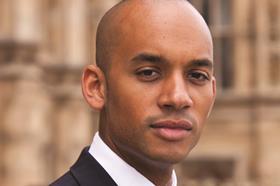 Chuka Umunna, shadow business secretary:
"Ministers have indicated that they will investigate blacklisting if new evidence emerges. In light of the committee's report, we would urge a proactive approach from government, including into examining allegations that blacklisting was used on major public construction projects."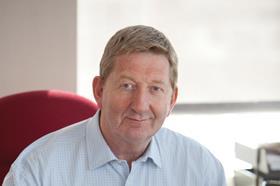 Len McCluskey, general secretary, Unite:
"The committee has done very important work when others looked away. I am calling on it to demand answers from the board of Crossrail, senior management at TfL and key decision makers employed by construction companies awarded contracts by Crossrail such as Royal Bam and Kier."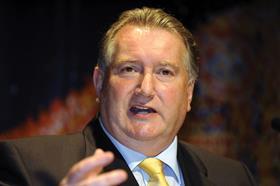 Paul Kenny, general secretary, GMB:
"What we see here in the plain light of day are major construction companies involved in shifty, unethical, dishonest practices for which they seem totally unable to apologise and take responsibility. They have yet to compensate a single person they damaged."