Industry warns redundancies are "tip of the iceberg"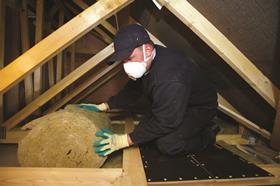 The number of jobs losses in the insulation industry because of a drop-off in work before the roll-out of the Green Deal has doubled within the last month, industry leaders claim.
Industry leaders have warned the redundancies are the "tip of the iceberg".
A survey of firms by the Insulation Industry Forum revealed that 1,782 jobs have now been lost in the sector up from just over 800 earlier this month.
It also found that 1,124 people were currently on notice of possible redundancy.
The insulation industry has seen a sharp drop-off in work since previous government insulation programmes ended in December 2012 and is not expecting to see any pick-up in business until the Green Deal starts at the end of this month.
The forum has subsequently sent a letter to energy secretary Ed Davey calling for action to avert further job losses. The letter signed by Alex McLeod, chair of the Insulation Industry Forum, said the job losses were the "tip of the iceberg".
It said: "If the government is serious about delivering on its green ambitions, protecting jobs and encouraging growth, it now needs to constructively engage with industry, or risk serious harm to both the insulation industry and the Green Deal, a policy we want to see succeed."
A spokesman for the Department of Energy and Climate Change said continuing old subsidies would have undermined the Green Deal.
He added that loft and cavity wall insulation was a "declining market". "Around 60% of lofts are fully insulated and around only 1% of lofts have no insulation at all, so it is inevitable that the number of loft insulations being delivered will fall – there are fewer left to do," he said.
"Installations like solid wall are generally bigger jobs than loft lagging; they employ more people so there is real potential for jobs growth," he added.