Firm will transport passengers with reduced mobility and help them with check-in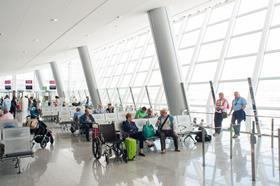 Interserve has won a £37m passenger support contract with Spain's largest airport and helicopter operator, AENA.
The four-year deal covers the provision of care and assistance for passengers with reduced mobility for the AENA's main airports across the Canary Islands in Tenerife, Gran Canaria, Lanzarote, Fuerteventura, Tenerife Norte and La Palma.
Interserve will transport passengers through the airports and helping them with check-in, boarding and luggage collection.
The contract adds to the firm's presence in the Spanish transport sector where it provides services for 15 rail and airline operators across 100 different sites.
Debbie White, chief executive of Interserve, said: "As global air travel continues to rise, guaranteeing the safety, security and comfort of passengers in a busy environment remains a top priority for airport operators.
"Through our understanding and expertise in managing these pressures, we look forward to delivering a truly world-class experience for passengers."
AENA manages 46 airports and two heliports across Spain, welcoming 230 million passengers in 2016. It also supports the management of 16 airports outside of Spain.