Plant in Dunbar handed over to client more than a year late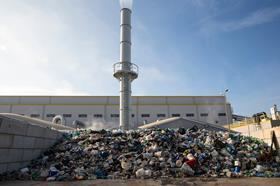 Interserve has finished the first of four energy-from-waste plants which have dogged the contractor for more than two years and cost it over £220m.
The plant in Dunbar, Scotland, was built with JV partner Babcock & Wilcox and has now been handed over to client Viridor – the same one that kicked Interserve off a similar job in Glasgow back in autumn 2016 and which claims the firm owes it more than £60m.
Dougie Sutherland, executive director at Interserve and the main board director in day-to-day charge of the EfW contracts, said: "This is an important milestone in the transformation of Interserve."
The original handover date for the plant was in December 2017, later than the deadline for three other schemes which are built but still in a commissioning stage.
The remaining jobs are with Babcock & Wilcox in Rotherham, South Yorkshire, and Margam in south Wales – as well as a plant in Derby being developed with Renewi, which started taking in waste in January last year.
Babcock & Wilcox has previously told investors that each of the three plants it was building in the UK, including Dunbar, would be finished by July.
In 2016 Interserve put aside £160m to finish its EfW contracts, adding that it would not take on any more work of this type. But the firm has now lost more than £220m on the initiative.
The handover comes as Interserve continues to negotiate the future of the business with creditors, with an update on a second rescue package expected to be made in the next few weeks.